What is Stretch marks (Striae distensae)?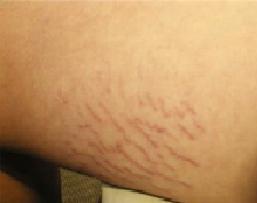 Stretch marks (also known as striae distensae) are part of a condition affecting the skin, and are commonly found in the population. These white, smooth, linear lesions can be found anywhere on the body and are related to stretching of the skin. The most common sites to be affected by stretch marks include the breasts, buttocks, thighs and lateral abdomen. Stretch marks appear to be a type of scarring that occurs in the dermal layer of the skin, as a result of an altered healing response and replacement of collagen. They are separated from the normal skin by dense collagen bundles. The following image shows the side of a patient's thigh, which has been affected by stretch marks. The red colouring indicates that the stretch marks are of recent onset. The appendages normally present in skin – including hair follicles, sweat glands and other structures are absent in areas affected by stretch marks.

Statistics
Depending on the race and age of the population studied, the prevalence of stretch marks has been reported to range from 50% to 90%. Due to the introduction of techniques such as in vitro fertilisation, the ability of women to reproduce has been lengthened, and the age of onset of stretch marks can vary greatly. Many women develop stretch marks during their first pregnancy. One study demonstrated that 43% of the women enrolled developed stretch marks before 24 weeks of gestation. It is unknown why some women are not affected; a recent study, strongly suggests that your family history and genetics may play a role.

Risk Factors
The cause of stretch marks appears to be a decrease in elastin fibers and fibrillin in the dermal layer of the skin. The orientation of these fibers also changes from the normal pattern (at right angles to the skin layer junctions) to an abnormal parallel pattern. This is closely related to hormonal and physical factors. Stretch marks are commonly found to affect many people, especially with conditions such as Cushing's syndrome, pregnancy and prolonged use of steroid medications.
There is also a familial predisposition to stretch marks. Non-white women and women with a history of breast or thigh stretch marks are more prone to developing stretch marks during pregnancy. Other factors, such as race and increasing age, are also found to be predictive.
Common predisposing circumstances for the devlopment of stretch marks include; those which involve a physical stretching of the skin, such as rapid weight gain or adolescent growth spurts, and others that involve hormonal changes, such as chronic steroid medication use or Cushing's syndrome.

Progression
Regardless of their causes, all stretch marks follow a natural course of progression. Active lesions are the early lesions that consist mainly of fine elastic fibers. As the stretch marks age, the fibers become thicker and there is a decrease in the thickness of the dermal layer of the skin.
However, different people are affected by stretch marks differently and the severity and development of lesions appear to depend greatly on individual factors. Once again, this suggests a genetic component.

Symptoms
When you visit the doctor, he or she may ask the following questions, as necessary, to try and identify the most likely diagnosis and cause for your symptoms.
Is there a personal or family history of stretch marks or conditions associated with stretch marks (eg disorders of elastic fibres or collagen)?
Have you experienced rapid weight gain or loss?
Have you been taking steroid medications for a long time?
Have you had any past pregnancies – if so, were there any problems with stretch marks during and after pregnancy?
What effect does the stretch marks have on your life?
Have you tried any treatments for the stretch marks?


Clinical Examination

Stretch marks appear as linear lesions that are commonly found on the breasts, abdomen, hips, and thighs. The location depends partly on the situation in which they developed. For instance, stretch marks after pregnancy are likely to appear on the abdomen and breasts. Stretch marks begin as red purple lesions, and with time, gradually lose their colour and atrophy. Eventually, they appear physically as white, scar-like lesions. They can cause symptoms and distress, such as burning, itching, and emotional upset.


How is it Diagnosed

The doctor will usually be able to make a diagnosis of stretch marks based on what is present clinically and no specific tests are necessary.


Prognosis

Stretch marks commonly affect the female population, and young healthy women who have had one or more pregnancies are commonly affected by stretch marks. Many of these women may participate in physical activities that expose their abdomen, leaving them feeling self-conscious about how they appear. Although stretch marks do not pose any health risks, there may be significant effects psychologically. Many people may turn to various expensive and painful treatments in an attempt to get rid of stretch marks, which are notoriously difficult to treat.


Treatment

To treat stretch marks, there are many treatments available, ranging from therapy applied to the skin, (eg various creams and dermabrasion), laser therapy, and even more invasive surgical methods. Unfortunately, stretch marks remain a tricky problem to target, in which no established treatment exists.
Some unconventional therapies have included: applying castor oil, applying seaweed wraps, using topical glycolic or fruit acids/alkaloids, and testing out homeopathic creams or oils.
Recent studies have evaluated laser treatment on stretch marks of various ages, topical 0.1% tretinoin cream applied to early clinically active stretch marks, and treatment of mature stretch marks with two different topical regimens (including glycolic acid, L-ascorbic acid, zinc sulfate, and tyrosine vs glycolic acid, and tretinoin emollient cream). Treatment with laser and treatment with glycolic acid in combination with 0.05% tretinoin emollient cream appeared to increase the elastic content in the treated lesions, improving the appearance of the striae. In particular, clinical improvement in the laser treated group continued for 6 months or more after treatment.
Unfortunately, even today, no successful preventative treatments have been found.


References

Mitts T, Jimenez F, Hinek A. Skin biopsy analysis reveals predisposition to stretch mark formation, Aesthetic Surgery Journal, 2005; 25: 593-600

Salter S, Kimball A. Striae gravidarum Clinics in Dermatology 2006; 24:97-100
Chang A, Agredano Y, Kimball J. Risk factors associated with striae gravidarum, J Am Acad Dermatol 2004; 54:881-885
Lee K, Rho Y, Jang S, et al. Decreased expression of collagen and fibronectin genes in striae distensae tissue, Clin Exp Dermatol 1994; 19:285-288
Dang S, Kim K, Griffiths C. et al. Topical tretinoin (retinoic acid) improves early stretch marks, Arch Dermatol 1996; 132: 519-526
Ash k, Lord J, Zukowski M, et al. Comparison of topical therapy for striae alba (20% glycolic acid/0.05% tretinoin versus 20% glycolic acid/10% L-ascorbic acid), Dermatol Surg 1998; 24: 849-856.
All content and media on the HealthEngine Blog is created and published online for informational purposes only. It is not intended to be a substitute for professional medical advice and should not be relied on as health or personal advice. Always seek the guidance of your doctor or other qualified health professional with any questions you may have regarding your health or a medical condition. Never disregard the advice of a medical professional, or delay in seeking it because of something you have read on this Website. If you think you may have a medical emergency, call your doctor, go to the nearest hospital emergency department, or call the emergency services immediately.