Who is affected?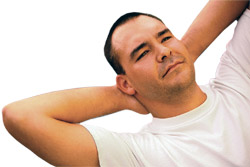 Between 10 and 88% of patients diagnosed with cancer experience sexual problemsfollowing diagnosis and treatment.This varies according to the location and type of cancer, and what kind of treatment is used.
The concept of sexuality encompasses body image, mood, self esteem and sense of emotional connection and intimacy. Each of these facets may be affected directly and indirectly by cancer and its treatment. Concerns regarding body image have been reported by men with prostate, laryngeal, blood, head and neck, and skin cancers.
Sexual problems are reported in patients with cancer that does not directly affect sexual organs, including lung cancer, Hodgkin's disease, and laryngeal and head and neck cancers. On this basis, it is recommended in Australian clinical practice guidelines that, regardless of cancer site, issues of sexuality related to cancer and its treatment should be discussed with health professionals.

What factors affect sexual adjustment in individuals with cancer?
Factors affecting sexual adjustment in men with cancer include:
Change in hormonal status due to treatment: Changes in sex hormones (androgens such as testosterone) affect libido and ability to orgasm; and
Treatments that directly impact on pelvic organs and sexual function: Sexual activity, satisfaction and desire may be significantly affected by radiotherapy in the regions of the pelvis, prostate and lower abdomen.
There has been limited research on other factors that may affect sexuality in men. Research in women has found the following factors play a role in sexual adjustment:
chemotherapy may interfere with the production of testosterone thus affecting sexual response and desire;
pre-existing problems in sexuality or relationships; and
age.
Although not yet proven by research, it is possible that these factors may also play a role in the sexual adjustment of men affected by cancer.

How long might sexual problems persist?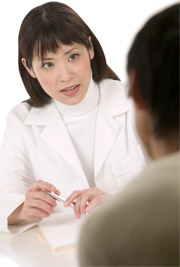 Sexual problems following cancer may persist long term. Sexual dysfunction has been found to occur in men with testicular cancer many years after diagnosis. After bone marrow transplantation for the treatment of Hodgkin's disease, sexual dysfunction may persist for up to 12 months.

What sort of problems may arise and how common are they?
Loss of libido (sexual drive), change in sexual activity and decreased orgasm/satisfaction occurs with the following cancers:
Head and neck: 39% of patients with minor disfigurement, and 74% with major disfigurement, experience a reduced sexuality.
Laryngeal: Associated with a significant decrease in sexual activity in 60% of cases.
Prostate: 43–51% of cases experience problems.
Lung: 48% of cases experience problems, and 27% experience severe problems.
Erectile dysfunction and ejaculatory difficulties (premature, retrograde, or dry) are associated with the following cancers:
Colorectal (with stoma): 62–88% of patients with colorectal cancer experience erectile dysfunction.
Testicular: 25–70% of cases experience problems.
Prostate: 71–91% of patients who have had radical prostatectomy and 41–62% who had radiation therapy experience problems
Hodgkin's disease: 50% experience problems.
Concerns about existing or potential sexuality problems are associated with anxiety, and may be a major source of stress in the lives of individuals with cancer.
More information
| | |
| --- | --- |
| | For more information on prostate cancer, including diagnoses, types of treatments, and some useful tools, videos and animations, see Prostate Cancer. |
| | |
| --- | --- |
| | For more information on cancer, including breast, prostate, kidney and stomach cancer, see Cancer: Overview. |
References
National Breast Cancer Centre and National Cancer Control Initiative. Clinical practice guidelines for the psychosocial care of adults
with cancer. Camperdown, NSW: National Breast Cancer Centre; 2003.
Gamba A, Romano M, Grosso IM,Tamburini M, Cantú G, Molinari R, et al. Psychosocial adjustment of patients surgically treated for head and neck cancer. Head Neck. 1992; 14(3): 218-23.
Arai Y, Kawakita M, Okada Y,Yoshida O. Sexuality and fertility in long-term survivors of testicular cancer. J Clin Oncol. 1997; 15(4): 1444-8.
Lilleby W, Fosså SD, Waehre HR, Olsen DR. Long-term morbidity and quality of life in patients with localized prostate cancer undergoing definitive radiotherapy or radical prostatectomy. Int J Radiat Oncol Biol Phys. 1999; 43(4): 735-43.
Spranger MAG, Te Velde A, Aaronson NK, Taal BG. Quality of life following surgery for colorectal cancer: A literature review. Psychooncology. 1993; 2(4): 247-59.
Clark JA, Wray N, Brody B, Ashton C, Giesler B, Watkins H. Dimensions of quality of life expressed by men treated for metastatic prostate cancer. Soc Sci Med. 1997; 45(8): 1299-309.
Sullivan AK, Szkrumelak N, Hoffman L. Psychological risk factors and early complications after bone marrow transplantation on adults. Bone Marrow Transplant. 1999; 24(10): 1109-20.
Cassileth BR, Lusk EJ, Tenaglia AN. Patients' perceptions of the cosmetic impact of melanoma resection. Plast Reconstr Surg. 1983; 71(1): 73-5.
Ginsburg ML, Quirt C, Ginsburg AD, MacKillop WJ. Psychiatric illness and psychosocial concerns of patients with newly diagnosed lung cancer. CMAJ. 1995; 152(5): 701-8.
Marks DI, Friedman SH, Delli Carpini L, Nezu CM, Nezu AM. A prospective study of the effects of high-dose chemotherapy and bone marrow transplantation on sexual function in the first year after transplant. Bone Marrow Transplant. 1997; 19(8): 819-22.
Rose DP, Davis TE. Effects of adjuvant chemohormonal therapy on the ovarian and adrenal function of breast cancer patients. Cancer Res. 1980; 40(11): 4043-7.
Ganz PA, Rowland JH, Desmond K, Meyerowitz BE, Wyatt GE. Life after breast cancer: Understanding women's health-related quality of life and sexual functioning. J Clin Oncol. 1998; 16(2): 501-14.
Kaplan HS. A neglected issue: The sexual side effects of current treatments for breast cancer. J Sex Marital Ther. 1992; 18(1): 3-19.
Makar K, Cumming CE, Lees AW, Hundleby M, Nabholtz JM, Kieren DK, et al. Sexuality, body image and quality of life after high dose or conventional chemotherapy for metastatic breast cancer. Can J Hum Sex. 1997; 6: 1-8.
Maguire GP, Lee EG, Bevington DJ, Küchemann CS, Crabtree RJ, Cornell CE. Psychiatric problems in the first year after mastectomy. Br Med J. 1978; 1: 963-5.
Joly F, Brune D, Couette JE, Lesaunier F, Héron JF, Pény J, et al. Health-related quality of life and sequelae in patients treated with brachytherapy and external beam irradiation for localized prostate cancer. Ann Oncol. 1998; 9(7): 751-7.
Hughson AVM, Cooper AF, McArdle CS, Smith DC. Psychosocial consequences of mastectomy: Levels of morbidity and associated factors. J Psychosom Res. 1988; 32(4-5): 383-91.
van Basten JP, van Driel MF, Jonker-Pool G, Sleijfer DT, Schraffordt Koops H, van de Wiel HB, et al. Sexual functioning in testosterone-supplemented patients treated for bilateral testicular cancer. Br J Urol. 1997; 79(3): 461-7.
Lilleby W, Fosså SD, Waehre HR, Olsen DR. Long-term morbidity and quality of life in patients with localized prostate cancer undergoing definitive radiotherapy or radical prostatectomy. Int J Radiat Oncol Biol Phys. 1999; 43(4): 735-43.
Aass N, Grünfeld B, Kaalhus O, Fosså SD. Pre- and post-treatment sexual life in testicular cancer patients: A descriptive investigation. Br J Cancer. 1993; 67(5): 1113-7.
Heidenreich A, Hofmann R. Quality-of-life issues in the treatment of testicular cancer. World J Urol. 1999; 17(4): 230-8.
Potosky AL, Legler J, Albertsen PC, Stanford JL, Gilliland FD, Hamilton AS, et al. Health outcomes after prostatectomy or radiotherapy for prostate cancer: Results from the Prostate Cancer Outcomes Study. J Natl Cancer Inst. 2000; 92(19): 1582-92.
Madalinska JB, Essink-Bot ML, de Koning HJ, Kirkels WJ, van der Maas PJ, Schröder FH. Health-related quality-of-life effects of radical prostatectomy and primary radiotherapy for screen-detected or clinically diagnosed localized prostate cancer. J Clin Oncol. 2001; 19(6): 1619-28.
Kunkel EJ, Bakker JR, Myers RE, Oyesanmi O, Gomella LG. Biopsychosocial aspects of prostate cancer. Psychosomatics. 2000; 41(2): 85-94.
All content and media on the HealthEngine Blog is created and published online for informational purposes only. It is not intended to be a substitute for professional medical advice and should not be relied on as health or personal advice. Always seek the guidance of your doctor or other qualified health professional with any questions you may have regarding your health or a medical condition. Never disregard the advice of a medical professional, or delay in seeking it because of something you have read on this Website. If you think you may have a medical emergency, call your doctor, go to the nearest hospital emergency department, or call the emergency services immediately.