What is Prostatic Intraepithelial Neoplasia (PIN)?
Prostatic intraepithelial neoplasia (PIN) are changes in the cells of the prostate gland that may lead to the development of prostate cancer.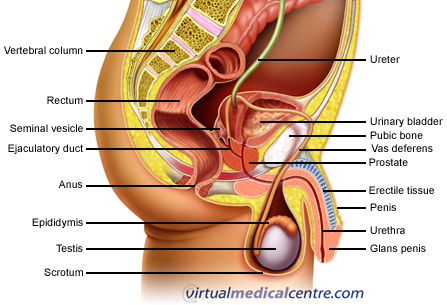 Statistics
PIN only occurs in males. It is more common as one grows older. The rates tend to be highest in people of African origin and lowest in those of Asian descent.
Risk Factors
There are no known risk factors associated with PIN. Age, male sex and being of African origin are the strongest predisposing factors. A diet high in fats and calories has also been associated with the development of PIN.
Progression
| | |
| --- | --- |
| | PIN is significant only insofar as the fact that about 20% of patients who show PIN on a biopsy will go on to develop prostate cancer. It may require a repeat biopsy in a few years to follow up on the initial finding. |
Clinical Examination
There are no physical examination signs that may reliably indicate the presence of PIN. While some may associate an enlarged or nodular prostate with this condition, these signs more readily indicate benign prostatic hyperplasia or cancer. PIN itself can only be unequivocally identified by microscopic examination of prostatic tissue.
How is it Diagnosed
This entity can only be diagnosed by examining prostate gland tissue specimens under a microscope. Such a specimen can be obtained from a needle biopsy, transurethral resection (TURP), or radical prostatectomy. Digital examination, transrectal ultrasonography or other imaging studies are not useful for detecting PIN.
Prognosis
Up to 20% of patients with PIN will go on to develop prostate cancer.
Treatment
PIN itself does not require treatment. In addition to other signs, it may indicate the development of prostate cancer, which would need treatment. Some centres recommend a repeat biopsy and serum level tests of prostate specific antigen in three years to determine the possibility of cancer.
More information
| | |
| --- | --- |
| | For more information on prostate cancer, including diagnoses, types of treatments, and some useful tools, videos and animations, see Prostate Cancer. |
References
Bostwick DG, Qian J. High-grade prostatic intraepithelial neoplasia. Mod Pathol. 2004; 17(3): 360-79.
Godoy G, Taneja SS. Contemporary clinical management of isolated high-grade prostatic intraepithelial neoplasia. Prostate Cancer Prostatic Dis. 2007; 11(1): 20-31.
Joniau S, Goeman L, Pennings J, Poppel HV. Prostatic intraepithelial neoplasia (PIN): Importance and clinical management. European Urology. 2005; 48(3): 379-8.
Nelson WG, De Marzo AM, Deweese TL, Lin X, Brooks JD, Putzi MJ, et al. Preneoplastic prostate lesions: An opportunity for prostate cancer prevention. Ann NY Acad Sci. 2001; 952(1): 135-44.
Vis AN, Van Der Kwast TH. Prostatic intraepithelial neoplasia and putative precursor lesions of prostate cancer: A clinical perspective. BJU International. 2001; 88(2): 147-57.