What is plastic surgery?
Plastic surgery refers to any type of surgery undertaken to restructure or change the appearance of a body part or characteristic.

Types of plastic surgery
Cosmetic and reconstructive surgery
Plastic surgery can be broadly categorised as either reconstructive or cosmetic surgery, depending on whether it is done primarily to restore function or to change physical appearance.
Reconstructive surgery is a medically indicated treatment used to improve dysfunctional body parts. While it may also change the individual's appearance, it is instituted primarily to restore function. For example, it can be used to remove webbing from a finger, or reattach limbs severed through trauma.
Cosmetic surgery is initiated by an individual who wants to change the physical appearance of a feature. Although in many cases their physical appearance is normal, they may wish to change the size of their breasts or the shape of their nose. An individual may also use cosmetic surgery to change disfigured body parts and give them a smoother appearance (e.g. scar removal).

Ladder system of classification
All plastic surgery procedures are ranked on a ladder system, according to their relative complexity and the likelihood that complications will occur as a result of the surgery. Simple procedures such as closing a wound appear at the bottom of the ladder, whilst complex procedures such as microsurgery to re-attach limbs rank at the top of the ladder. Plastic surgeons choose the simplest procedure to correct the abnormality or obtain the desired cosmetic result, as the most appropriate form of surgery.
Surgeons can change the appearance of numerous body parts through cosmetic surgery. Some of the most common body parts modified through cosmetic surgery, either changing size or shape, are:
Breasts;
Ears;
Eyes;
Face;
Hair;
Nose; and
Abdomen.

Surgical techniques and procedures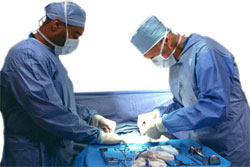 It is also possible to classify plastic surgery procedures according to the body changes they create and the surgical techniques they use.
Liposuction, also known as lipoplasty, refers to cosmetic surgery procedures in which the body is recontoured by removing fat stored directly under the skin (which women have a higher percentage of than men). While liposuction has a fairly bloody history, a typical modern procedure is conducted under local anaesthetic in an office (as opposed to hospital) setting, is generally painless, and can remove up to 17 litres of unwanted fat and body tissues.
The individual's body is first injected with a wetting solution, which softens tissues and enables greater quantities of fat and tissue to be removed. Fat is then aspirated from the body through a needle, typically with ultrasonic guidance. Liposuction is often promoted as a trivial procedure, despite evidence suggesting it carries a significant mortality risk.
Lipoplasty techniques may be used for:
Breast reduction: Liposuction is the primary cosmetic surgery method used for procedures to reduce breast size;
In conjunction with or preceding lift, tuck and body contouring procedures to remove fat deposits from the targeted areas, including:

Face;
Neck;
Buttocks;
Thighs; and
Abdomen.
Augmentation procedures are those in which implantable devices or injectable solutions are added to specific areas of the body to increase the size of certain features. For example, breast augmentation refers to surgery in which breast implants are inserted to increase the size of a woman's breasts.
Other areas of the body which may be targeted with augmentation procedures include:
Face: Devices made from a range of materials can be implanted to change the shape or contour of facial features such as the chin, nose, jaw or cheekbones; and
Lips: Lip augmentation procedures usually involve only the injection of filling solution (e.g. human fat, collagen) into the lips (a non-surgical treatment), and do not require surgical incision.

Body contouring, lifts and tucks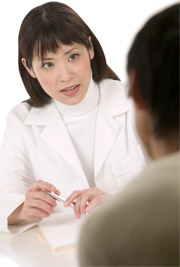 Body contouring involves removing excessive, loose or sagging skin from particular areas of the body, and reshaping and increasing the tone of skin. Common body contouring procedures include:
Brachioplasty: Commonly referred to as an arm lift. It involves the tightening and smoothing of tissues and removal of fat from the upper arm, as well as the removal and tightening of sagging upper arm skin;
Lower body lift: Involves tightening skin on the buttocks, abdomen, waist, hips and outer thighs. It can be performed as a single procedure or in stages, and typically follows reductive cosmetic surgery such as liposuction;
Mastoplexy: Commonly referred to as a breast lift. It involves a number of incisions around the areola to reposition it. A breast lift may be conducted in combination with breast augmentation;
Thigh lift: The skin of the inner thigh is typically cut to enable the removal of excess skin;
Abdominoplasty: Also known as a tummy tuck, abdominoplasty involves the removal of excessive skin and fat from the abdominal area, and often also alters abdominal muscles to create a smoother appearance with increased tone;
Brow lift: Also known as a forehead lift, a brow lift involves incisions in the skin around the hair line. It removes skin from the brow or forehead with the aim of reducing wrinkles and sagging skin on the face;
Rhytidectomy: Commonly known as a face lift. It removes and re-tones skin on the face, with the aim of removing features typically associated with ageing skin such as sagging and wrinkles. Fat may also be removed during a face lift and, in some cases, implants are added and soft tissues augmented to change the contours of the face;
Blepharoplasty: Commonly known as an eyelid lift. It can involve the upper, lower or both eyelids. It may involve removing excessive skin to prevent sagging and wrinkling, and sometimes also removing small fat deposits around the eyes.
The procedures are commonly performed in combination. For example, patients who undergo rhytidectomy often also have blepharoplasty.
Reshaping cosmetic techniques include:
Mentoplasty: Chin surgery;
Rhinoplasty: Nose surgery; and
Otoplasty: Ear surgery conducted to reduce the size and change the position of the ears. It is often conducted during childhood (after four years when the ears are fully grown), but may also be used to change the appearance of adult ears.
Dermabrasion is a surgical technique in which the top dermal layers are scraped away. It is carried out with the aim of reducing the appearance of wrinkles and scarring. It may also be medically indicated for the removal of skin cancer.
Hair replacement is a cosmetic surgery procedure that replaces hair lost through balding or as a result of trauma or injury (in which case the procedure is usually reconstructive, not cosmetic). It involves taking skin from areas with healthy hair growth, and grafting it to balding areas or areas that have lost their hair cover as a result of trauma.

References
What is the difference between cosmetic and reconstructive surgery? [online]. Arlington Heights, IL: American Society of Plastic Surgeons; 2010 [cited 5 May 2010]. Available from URL:

http://www.plasticsurgery.org/ Patients and Consumers/ Plastic Surgery FAQs/ What is the difference between cosmetic and reconstructive surgery.html

American Society of Plastic Surgeons. Nose surgery [online]. St Leonards, NSW: Australian Society of Plastic Surgeons; 2009 [cited 10 May 2010]. Available from URL:

http://www.plasticsurgery.org.au/ default.aspx?itemid=182

Patients and consumers [online]. St Leonards, NSW: Australian Society of Plastic Surgeons; 2009 [cited 2 May 2010]. Available from URL:

http://www.plasticsurgery.org.au/ Patients-and-Consumers/

Reconstructive plastic surgery procedures at-a-glance [online]. Arlington Heights, IL: American Society of Plastic Surgeons; 2010 [cited 5 May 2010]. Available from URL:

http://www.plasticsurgery.org/ Patients and Consumers/ Procedures/ Reconstructive Procedures.html

Planning your surgery. [online]. St Leonards, NSW: Australian Society of Plastic Surgeons; 2009 [cited 2 May 2010]. Available from URL:

http://www.plasticsurgery.org.au/ Patients-and-Consumers/ Planning-Your-Surgery/

Medline Plus. Plastic and cosmetic surgery [online]. Bethesda, MD: National Institutes for Health. 10 September 2009. [cited 5 May 2010]. Available from URL:

http://www.nlm.nih.gov/ medlineplus/ plasticandcosmeticsurgery.html

Commons GW, Halperin B, Chang CC. Large volume liposuction: A review of 631 consecutive cases over 12 years. Plast Reconstr Surg. 2001;108(6):1753-63.
Grazer FM, de Jong RH. Fatal outcomes from liposuction: Census survey of cosmetic surgeons. Plast Reconstr Surg. 2000;105(1):436-46.
Moskovitz MJ, Muskin E, Baxt SA. Outcome study in liposuction breast reduction. Plast Reconstr Surg. 2004;114(1):55-60.

American Society of Plastic Surgeons. Face lift [online]. St Leonards, NSW: Australian Society of Plastic Surgeons; 2009 [cited 10 May 2010]. Available from URL:

http://www.plasticsurgery.org.au/ default.aspx?itemid=175

American Society of Plastic Surgeons. Breast augmentation [online]. St Leonards, NSW: Australian Society of Plastic Surgeons; 2009 [cited 10 May 2010]. Available from URL:

http://www.plasticsurgery.org.au/ default.aspx?itemid=167

American Society of Plastic Surgeons. Face implants [online]. St Leonards, NSW: Australian Society of Plastic Surgeons; 2009 [cited 10 May 2010]. Available from URL:

http://www.plasticsurgery.org.au/ default.aspx?itemid=176

American Society of Plastic Surgeons. Injectable fillers [online]. St Leonards, NSW: Australian Society of Plastic Surgeons; 2009 [cited 10 May 2010]. Available from URL:

http://www.plasticsurgery.org.au/ default.aspx?itemid=179

American Society of Plastic Surgeons. Body contouring [online]. St Leonards, NSW: Australian Society of Plastic Surgeons; 2009 [cited 10 May 2010]. Available from URL:

http://www.plasticsurgery.org.au/ default.aspx?itemid=164

American Society of Plastic Surgeons. Arm lift [online]. St Leonards, NSW: Australian Society of Plastic Surgeons; 2009 [cited 10 May 2010]. Available from URL:

http://www.plasticsurgery.org.au/default.aspx?itemid=163

American Society of Plastic Surgeons. Tummy tuck [online]. St Leonards, NSW: Australian Society of Plastic Surgeons; 2009 [cited 10 May 2010]. Available from URL:

http://www.plasticsurgery.org.au/ default.aspx?itemid=187

American Society of Plastic Surgeons. Brow lift [online]. St Leonards, NSW: Australian Society of Plastic Surgeons; 2009 [cited 10 May 2010]. Available from URL:

http://www.plasticsurgery.org.au/ default.aspx?itemid=169

American Society of Plastic Surgeons. Face lift [online]. St Leonards, NSW: Australian Society of Plastic Surgeons; 2009 [cited 10 May 2010]. Available from URL:

http://www.plasticsurgery.org.au/default.aspx?itemid=175

American Society of Plastic Surgeons. Eyelid surgery [online]. St Leonards, NSW: Australian Society of Plastic Surgeons; 2009 [cited 10 May 2010]. Available from URL:

http://www.plasticsurgery.org.au/ default.aspx?itemid=174

American Society of Plastic Surgeons. Chin surgery [online]. St Leonards, NSW: Australian Society of Plastic Surgeons; 2009 [cited 10 May 2010]. Available from URL:

http://www.plasticsurgery.org.au/ default.aspx?itemid=171

American Society of Plastic Surgeons. Ear surgery [online]. St Leonards, NSW: Australian Society of Plastic Surgeons; 2009 [cited 10 May 2010]. Available from URL:

http://www.plasticsurgery.org.au/ default.aspx?itemid=173

American Society of Plastic Surgeons. Dermabrasion [online]. St Leonards, NSW: Australian Society of Plastic Surgeons; 2009 [cited 10 May 2010]. Available from URL:

http://www.plasticsurgery.org.au/ default.aspx?itemid=172

American Society of Plastic Surgeons. Hair replacement [online]. St Leonards, NSW: Australian Society of Plastic Surgeons; 2009 [cited 10 May 2010]. Available from URL:

http://www.plasticsurgery.org.au/ default.aspx?itemid=177