What is oral thrush?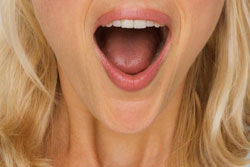 Oral thrush (or oral candidiasis) is a type of thrush found in the oral cavity. It is a type of fungal (yeast) infection, caused most commonly by Candida albicans, but can also be caused by other non-albican species like C. krusei, C. parapsilosi, C. glabrata, C. tropicalis and C. dubliniensis.
As the Candida species are a part of the normal flora that lives in the mouth, it is the change in the normal oral environment, rather than the actual exposure or 'infection' per se, that results in the occurrence of this disease.

Statistics of oral thrush
Oral thrush is most common in the very young, the very old or the very sick. It is most commonly associated with HIV. It is estimated that 95% of individuals who are HIV positive will at some point develop oral thrush.
It is also seen frequently in people undergoing chemotherapy and those in healthcare facilities. Healthy adults and children can also present with oral thrush if they do not maintain good oral hygiene, although this is uncommon.
About 45% of infants on breastmilk and almost 60% of people who wear loose or ill-fitting dentures develop oral thrush.

Risk factors for oral thrush
Candida species are a part of the normal flora of the mouth. Any changes in the oral environment can cause the Candida species to multiply and colonise the mouth, leading to oral thrush.
Immunocompromised people, such as those with HIV/AIDS or cancer, have the highest risk of developing the disease. Age can also be a factor, since the disease is more common in the very young and very old. Saliva plays a major role in the prevention of Candidal overgrowth; therefore, disturbances to normal salivary physiology and decreased salivary flow represent major risk factors for oral thrush.
Medications like antibiotics, steroids and immunosuppressants in the treatment of malignancies are all also causative factors of the occurrence of oral thrush.
Oral thrush can also occur due to some behavioural factors such as poor oral hygiene, dehydration and insufficient nutrition to the body.

Progression of oral thrush
Oral thrush progresses slowly in healthy individuals and can resolve on its own when the oral environment becomes normal. Oral antifungal medication often helps in the regression of the disease.
However, if it is left untreated in people with HIV/AIDS, it can progress rapidly to the throat, causing difficulty in swallowing medication and food, leading to an early death.

Symptoms of oral thrush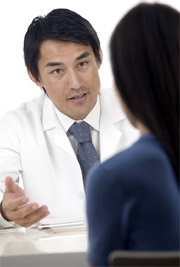 Many people with oral thrush can remain asymptomatic for a long period of time. However, some of the symptoms can include:
Burning pain in the mouth;
Altered taste sensation;
Difficulty swallowing liquids and solids; and/or
Creamy white cheesy or curd-like plaques.
Clinical examination of oral thrush
On examination, the dentist will most commonly see white cheesy or curd-like plaques on the tongue, inner cheek or palate which, when scrubbed, will leave a reddish site that may bleed slightly on contact. Although there are different clinical manifestations of oral thrush, the most familiar one is called the pseudomembranous type, and has the above characteristics.

How is oral thrush diagnosed?
Oral thrush is characterised as a white lesion in the mouth. Misdiagnosis is likely if individuals try to diagnose themselves, as there are many other white lesions that can also occur in the mouth. It is therefore necessary to seek professional advice before self-treatment.
Clinical signs and symptoms, in conjunction with a thorough medical history, are generally used by the dentist to make a provisional diagnosis of oral thrush. Laboratory tests are done to confirm the diagnosis. These may include:
Swabbing: Using sterile wooden spatulas, the lesion is scraped for a sample and tested;
Imprint culture: Sterile plastic foam pads are dipped in a special solution and pressed against the mucosal surface for 60 seconds;
Collecting saliva: 2 mL of mixed whole unstimulated saliva is spat into a sterile universal container, which is vibrated on a bench vibrator for 30 seconds to disaggregate the organisms;
Oral rinse sample: The mouth is rinsed with 10 mL of phosphate-buffered saline (0.1 M, pH 7.2) for 60 seconds which is collected in a sterile container;
Incisional biopsy: A sample of the lesion is cut and removed to be tested in the lab.
Prognosis of oral thrush
With effective and appropriate treatment, the prognosis of oral thrush is good. However, relapse of the disease can occur if the underlying predisposing factors have not been treated.

Treatment of oral thrush
Maintaining good oral hygiene and using topical antifungal medication are usually adequate for uncomplicated oral thrush. Tablets can be used in case of severe infection, and these are normally available through a prescription. The topical medication, however, may be readily available over-the-counter in pharmacies. Nevertheless, further dental advice is essential if the disease persists for more than 7–10 days or recurs.

Oral thrush prevention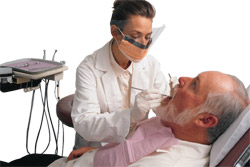 The following measures can help to prevent oral thrush:
Maintaining good oral hygiene, which includes brushing and flossing;
For those who wear dentures, it is important to use well-fitted dentures;
Since oral thrush can be asymptomatic, having regular dental check-ups is vital, especially for people who are immunocompromised;
A healthy balanced diet and daily exercise can help maintain a good immune system and thus reduce the occurrence of oral thrush;
Sufficient fluid intake should be taken to keep the mouth moist; and
References
All content and media on the HealthEngine Blog is created and published online for informational purposes only. It is not intended to be a substitute for professional medical advice and should not be relied on as health or personal advice. Always seek the guidance of your doctor or other qualified health professional with any questions you may have regarding your health or a medical condition. Never disregard the advice of a medical professional, or delay in seeking it because of something you have read on this Website. If you think you may have a medical emergency, call your doctor, go to the nearest hospital emergency department, or call the emergency services immediately.