LDL cholesterol lowering drugs are commonly prescribed to people with high levels of LDL (
low density lipoprotein
) cholesterol.
When too much LDL cholesterol is present in the blood, it can begin to build up in the inner walls of the arteries that feed the heart and brain. Together with other substances, it can form atherosclerotic plaques, a sort of thick, hard deposit that can clog arteries and lead to problems such as
coronary heart disease
and
stroke
.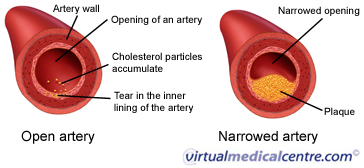 Information on re-publishing of our images
Previous research has demonstrated that lowering LDL cholesterol reduces the progression of heart disease and death rate.

What is cholesterol?
Cholesterol is a waxy, fat-like substance that is naturally found in the body's cell walls. The level of cholesterol in the body is determined by two things: the amount of cholesterol that we absorb in our
intestines
, and the amount that we produce in our liver. Having some cholesterol in the body is normal and healthy – we need it to produce certain
hormones
,
vitamin D
, and
bile acids
that help to digest fat.
If we have too much cholesterol, it can build up in arteries and lead to coronary heart disease and many other serious conditions. There are two major types of cholesterol found in the blood: low-density lipoprotein (LDL) cholesterol, sometimes referred to as 'bad' cholesterol, and
high density lipoprotein
(HDL) cholesterol, or 'good' cholesterol.
LDL cholesterol is called 'bad' because it is a major contributor to the development of atherosclerosis – the sticky plaques that can form inside blood vessels and contribute to problems like stroke.
HDL cholesterol is 'good' because it helps remove cholesterol from these developing plaques, taking it back to the liver to be excreted from the body in bile. Levels of HDL in the body can be raised by things like exercise, and lowered by smoking.

LDL Cholesterol Lowering
Why lower LDL cholesterol?
Lowering LDL cholesterol levels in the blood can have a number of positive effects for your health, including:

Reducing the number and extent of sticky cholesterol plaques on artery walls;
Stopping existing plaques from rupturing, which can cause problems with formation of blood clots;
Decreasing the risk of developing problems such as heart attack and stroke.

How can my level of LDL cholesterol be lowered?
Other than drugs, there are a number of lifestyle changes that can be made to help lower LDL cholesterol levels. These include:
Healthy Eating: A low-fat, high fibre diet, staying away from greasy foods and eating more vegetables, can drastically improve cardiac health. For more details and help with regards to diet, see you general practitioner.
Fish Oil and Fish: Eating fish twice a week helps to lower cholesterol levels. This can also enhance the effects of medication.
Plant Sterols: These can be found in some margarines and help reduce the absorption of cholesterol.
Stop Smoking: Stopping smoking is vital to cardiac health as well as overall well-being. It is strongly encouraged that all patients quit smoking. There are various methods for helping with this that can be discussed with your GP.
Physical Activity: Moderate to intense physical activity of at least 30 minutes should be undertaken on most, if not all, days.
Weight Reduction: While this should come from improved diet and exercise, weight reduction plays an important role in the reduction of LDL cholesterol levels.
Alcohol: Alcohol should be drunk in moderation, especially if you have a high level of triglycerides.
Salt: Reducing salt intake has been shown to lower high blood pressure, and thus reduce general cardiovascular risk.
Sometimes, though, these lifestyle changes are not enough, and your doctor might prescribe a type of cholesterol-lowering drug to help lower your cholesterol levels.
The most commonly used type of cholesterol-lowering drugs are called statins (sometimes also known as HMG CoA reductase inhibitors). Other drugs used include fibric acid derivatives, bile acid sequestrants, cholesterol absorption inhibitors, and nicotinic acid. These drugs act in different ways, and produce different degrees and types of cholesterol lowering.

LDL Cholesterol Levels Calculator
This information will be collected for educational purposes, however it will remain anonymous.

What is the evidence for using these treatments to lower LDL cholesterol?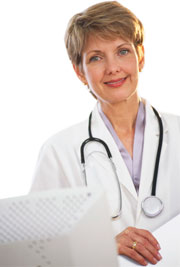 Many trials have been conducted to look at the benefits for patients of taking cholesterol lowering medications. Some of the results are summarised below:
The Pravastatin or Atorvastatin Evaluation and Infection Therapy-Thrombolysis in Myocardial Infarction 22 (PROVE IT-TIMI 22) trial in Boston compared a high-dose statin treatment to a low-dose statin treatment. The higher dose provided greater protection against death, heart attack, chest pain requiring hospital admission, and stroke; and improved outcomes over two years among patients with acute heart disease.
Another group of researchers from the United States showed in their trial, the Treating to New Targets (TNT) trial, that intensive lipid-lowering treatment provides more significant clinical benefit compared with a lower dose of statin drug.
The Heart Protection Study in the UK showed that lowering LDL cholesterol from below 3 mmol/L to below 2 mmol/L reduced the risk of heart disease by about one quarter.
Overall, the results of these trials suggest that intensive therapy to lower LDL cholesterol levels is beneficial in treating both acute and stable heart disease. They also suggest that high-risk patients may benefit from more extensive lowering of LDL-cholesterol than was once thought necessary.
More information
| | |
| --- | --- |
| | For more information on cholesterol, including the health effects of high cholesterol and ways to lower cholesterol levels, as well as some useful tools, see Cholesterol. |
References
Brown AS, Bakker-Arkema RG, Yellen L, et al. Treating patients with documented atherosclerosis to National Cholesterol Education Program-recommended low-density-lipoprotein cholesterol goals with atorvastatin, fluvastatin, lovastatin and simvastatin. J Am Coll Cardiol. 1998; 32: 665.
Cannon CP, Braunwald E, McCabe CH, et al. Intensive versus moderate lipid lowering with statins after acute coronary syndromes. N Engl J Med. 2004; 350(15): 1495-504.
Expert Panel on Detection, Evaluation, and Treatment of High Blood Cholesterol in Adults. Executive summary of the third report of the National Cholesterol Education Program (NCEP) expert panel on detection, evaluation, and treatment of high blood cholesterol in adults (Adult Treatment Panel III). JAMA. 2001; 285: 2486-97.
Heart Foundation Australia. Lipid Management Guidelines 2001. Medical Journal of Australia. 2001; 175: S57-S88.
Heart Protection Study Collaborative Group. MRC/BHF Heart Protection Study of cholesterol lowering with simvastatin in 20,536 high risk individuals: A randomised placebo-controlled trial. Lancet. 2002; 360: 7-22M.
Kastelein JJ, Isaacsohn JL, Ose L, et al. Comparison of effects of simvastatin versus atorvastatin on high-density lipoprotein cholesterol and apolipoprotein A-I levels. Am J Cardiol. 2000; 86: 221.
LaRosa JC, Grundy SM, Waters DD, et al. Intensive lipid lowering with atorvastatin in patients with stable coronary disease. N Engl J Med. 2005; 352(14): 1425-34.
Ray KK, Cannon CP, McCabe CH, et al. Early and late benefits of high dose atorvastatin in patients with acute coronary syndromes: results from the PROVE IT-TIMI 22 trial. J Am Coll Cardiol. 2005; 46(8): 1405-10.
Sacks FM, Tonkin AM, Shepherd J, et al, for the Prospective Pravastatin Pooling Project Investigators Group. Effect of pravastatin on coronary disease events in subgroups defined by coronary risk. Circulation. 2000; 102: 1893.
Wood D, De Backer G, Faergeman 0, et al. Prevention of coronary heart disease in clinical practice: recommendations of the Second Joint Task Force of European and other Societies on coronary prevention. Eur Heart. 1998; 19: 1434-503.
Drugs used in this treatment:
All content and media on the HealthEngine Blog is created and published online for informational purposes only. It is not intended to be a substitute for professional medical advice and should not be relied on as health or personal advice. Always seek the guidance of your doctor or other qualified health professional with any questions you may have regarding your health or a medical condition. Never disregard the advice of a medical professional, or delay in seeking it because of something you have read on this Website. If you think you may have a medical emergency, call your doctor, go to the nearest hospital emergency department, or call the emergency services immediately.