What is hip pain?
The hip is the part of the body anatomically referred to as the 'hip joint' is where the upper part of the femur (the thigh bone) attaches to the pelvis (acetabulum).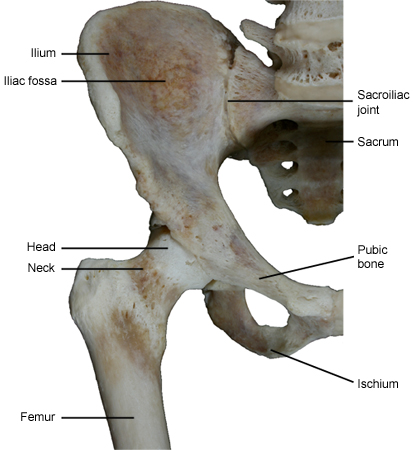 Image courtesy of Dr Iván Saenz (Virtual Medical Vision)
When patients complain of hip pain, they most commonly actually refer to problems originating in the buttock or lower back. Hip problems, on the other hand, usually cause pain in the thigh region, groin or even knee, due to the innervation of the hip.
Statistics on hip pain
Hip pain is very common and can result from many different causes. Hip pain tends to occur commonly in certain age groups – the young (from 0 to 15 years) and older population (>45 years of age).
Risk factors for hip pain
The most common causes of hip pain in adults are:
Osteoarthritis of the hip especially if you are older than 50;
Lower back problems (e.g. vertebral dysfunction);
Fracture of the femoral neck;
Traumatic muscular strains and bursitis or tendinitis (inflammation of the bursa and tendons respectively. Bursae are fluid filled sacs that reduce friction and improve movements at joints);
Polymyalgia rheumatica (an inflammatory condition that tends to cause symmetrical back and hip pain);
Other inflammatory conditions,  e.g. rheumatoid arthritis, ankylosing spondylitis;
Serious infections: septic arthritis, osteomyelitis;
Malignancy. The hip and pelvis are common sites for secondary bony deposits. The pain is likely to be severe, unremitting and constant and be associated with weight loss.
In children, the common conditions are:
Congenital dislocation of the hip (0-4 years, 1/800 infants);
Transient synovitis (4-8 years) transient inflammation of the hip joint lining – usually due to minor trauma or virus;
Perthes' disease: (4-8 years) necrosis (tissue destruction) of the femoral head due to lack of blood supply;
Slipped capital femoral epiphysis (SCFE),: 10-15 years. The femoral head 'slips' with respect to the femoral neck. Tends to occur in adolescent boys;
Septic arthritis is rare but should be considered in ill children who are unable to walk.
Progression of hip pain
Largely depends on the condition. Importantly, in older adults:
Osteoarthritis is a chronic condition that causes pain and stiffness most days, usually worse after activity;
Acute infections such as septic arthritis (joint infection) or osteomyelitis (bone infection) need urgent diagnosis because they can cause joint destruction as well overwhelming sepsis if not treated;
A condition such as polymyalgia rheumatica also requires early diagnosis since it is treatable with corticosteroids and is commonly associated with temporal arteritis – which can be serious.
In children:
Transient synovitis usually heals on its own after 7 days;
The other conditions such as congenital dislocation, SCFE, and Perthes' require urgent diagnosis for appropriate treatment, otherwise can result in permanent disability and lead to osteoarthritis.
How is hip pain diagnosed?
Blood tests: An elevated ESR, CRP, or white cell count may indicate inflammation or infection.
X-rays: A Plain x-ray of the pelvis showing both hip joints and a lateral x-ray ('frog lateral' in children) as well as an x-ray of the lumbar spine, may show inflammatory conditions, osteoarthritis, fractures, Perthes' and SCFE in children and other rare conditions such as tumours.
Prognosis of hip pain
The prognosis also largely depends on the condition as mentioned above. Osteoarthritis can not be 'cured' though if it leads to severe impairment of function due to pain and loss of mobility a hip replacement can be offered to improve function in patients who are suitable for surgery. The other conditions require specific treatment.
How is hip pain treated?
Treatment depends on the cause.
Osteoarthritis has multimodal treatment including:
Weight loss and sensible exercise are important. A walking stick may help mobility;
Physiotherapy and Occupational therapy referrals to improve mobility, and advice on aids in the home and more efficient performance of daily functions;
Simple analgesics (NSAIDs for periods of < 2 weeks), COX2 inhibitors, though stomach ulcers can occur with both;
Alternative therapies: heat, massage, acupuncture, and glucosamine may be of some help when used in conjunction with other therapies;
Joint injection of steroids can provide relief for severe episodes of pain;
Finally, referral for surgery should be made for debilitating and intractable pain and disability – since hip replacement can be of significant benefit in improving function.
Conditions such as fracture of the femoral neck or avascular necrosis are treated with surgery and fixation or replacement of the femoral head with a prosthesis.
Septic arthritis and osteomyelitis require long-term antibiotics and often surgical drainage of the joint for septic arthritis.
Children
Treatment of congenital dislocation of the hip usually requires a special harness if diagnosed before 6 months, but if diagnosed later may require corrective surgery first;
Perthes' disease and SCFE require treatment by an orthopaedic surgeon.
Hip pain references
Apley A, Solomon L. Apley's System of Orthopaedics and Fractures, 8th Edition. Butterworth Beinemann, 2001.
Hamer A. PAin in the Hip and Knee. BMJ 2004;328:1067-1069.
Kumar P, Clark M. Clinical Medicine. WB Saunders 2002.
O'Kane J. Anterior Hip Pain. Am Fam Physician 1999;60: 1687-96.
Paice E. ABC of Rheumatology: Pain in the Hip and Knee. BMJ 1995;310:319-322.
Witt CM, Jena S, Brinkhaus B, et al. Acupuncture in patients with osteoarthritis of the knee or hip: a randomized, controlled trial with an additional nonrandomized arm. Arthritis Rheum. 2006 Nov;54(11):3485-93.