Introduction to alcohol on New Year's Eve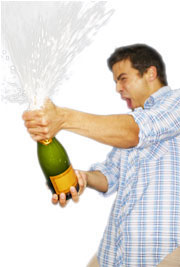 New Year's Eve is a night when a lot of people attend social gatherings, often large public events. People typically drink alcohol at New Year's Eve gatherings, and while many people drink responsibly, binge drinking (drinking until drunk or intoxicated) is also common amongst people of all ages. Binge drinking increases the risk of violence; drunk people are more likely to experience injuries requiring hospitalisation than sober people.
In the long term, binge drinking is also associated with an increased risk of numerous health conditions, and therefore has significant health, economic and emotional costs. Preventing alcohol intoxication on New Year's Eve is therefore important for an individual's health and for the health of loved ones. So this New Year, find out how to consume alcohol safely and still have a good night!

What is healthy alcohol consumption?
Healthy alcohol consumption means drinking alcohol in moderate quantities – that is, quantities that keep the long and short term health risks of alcohol consumption to an acceptable level. Safe levels of alcohol consumption in Australia are determined by the National Health and Medical Council (NHMRC), based on evidence about the risks of varying levels of alcohol consumption. The NHMRC recommends that both men and women drink no more than four standard drinks at a time to prevent the short term risks of alcohol consumption (e.g. trauma and accidents) and no more than two standard drinks on any given day to prevent the long term risks of alcohol consumption.
Convert your Drinks into Standard Serving Sizes

How much alcohol is consumed on New Year's Eve?
No studies have been conducted about alcohol consumption on New Year's Eve, although it is widely perceived as a night of festivities, involving large public gatherings and often excessive alcohol consumption. However, there is evidence that alcohol consumption increases in the festive season. For example, a study conducted in Spain reported increased alcohol and substance abuse at work Christmas parties compared to other times of the year. A study from Finland reported increased alcohol sales (and an increased incidence of fatal alcohol poisonings) on weekends and at times of celebration such as Christmas and May Day.

Risks of excessive alcohol consumption
Alcohol intoxication carries numerous short and long term health consequences. In the long term these include:
In the short term alcohol intoxication increases the risk of:
Road accident;
Going to hospital because of an injury (e.g. from falls, poisoning and drowning);
Experiencing alcohol-related violence, either as a perpetrator, witness or victim;
Unhealthy sex, which risks pregnancy, sexually transmitted infection and psychological health issues;
Personal conflict, for example within families;
Social embarrassment; and
A hangover the following day.

Tips for safe New Year's Eve alcohol consumption
In order to avoid consuming excessive amounts of alcohol this New Year's Eve, why not try:
Think about the acceptability, harm and cost of excessive alcohol consumption on New Year's Eve before you go out. For example, think about how much money you will spend, the potential risks of consuming too much alcohol, and how you will feel the following day;
Aim to drink in accordance with the NHMRC guidelines for safe alcohol consumption, which allow no more than four standard drinks on any given day for both men and women;
Assess your alcohol consumption and keep track of how much you drink throughout the night, remembering that a standard drink as defined by the NHMRC is often less than a standard serving of beer, wine or other alcoholic beverage;
Eat before and while drinking alcohol. This may be easier (and healthier) if you take food from home to outdoor New Year's Eve spots, where food may not be available or you may have to stand in long queues to get food;
Plan a night out at an alcohol-free venue with good entertainment;
Avoid refilling a glass while it is half empty, as this makes it difficult to keep track of how much is consumed;
Space alcoholic drinks by having a glass of water or a soft drink in between;
Avoid buying drinks in "shouts" or "rounds" as this encourages everyone to keep up with the person who is drinking the fastest;
Keep busy dancing, watching entertainment or chatting with friends while awaiting the New Year. This can reduce the amount of alcohol consumed;
Don't drink and drive. Designate a driver or plan to catch public transport or use a taxi. Be aware that there are often long queues for public transport and taxis on New Year's Eve, and be prepared to wait.
More information
| | |
| --- | --- |
| | For more information on drinking alcohol, including drinking disorders and alcohol's effect on the body, as well as some useful tools, see Alcohol. |
| | |
| --- | --- |
| | For more information on staying healthy in the New Year, including tips on diet, partying, exercise and general health, see Health in the New Year. |
References
Meller N. Measures to reduce violence at major public events: New Year's Eve. Paper presented at Second National Conference on Violence; Canberra, 15-18 June 1993 [online]. Australian Institute of Criminology. 16 January 2004 [cited 14 December 2009]. Available from: URL link
National Health and Medical Research Centre. Australian guidelines to reduce health risks from drinking [online]. 6 March 2009 [cited 22 August 2009]. Available from: URL link
Vidal-Infer A, Tomás-Dols S, Aguilar-Moya R, Samper-Gras T, Zarza MJ, Aguilar-Serrano J. [Christmas work dinners. A pattern of recreational use of alcohol and other drugs?] [Article in Spanish]. Adicciones. 2009; 21(2): 133-42.
Poikolainen K, Leppänen K, Vuori E. Alcohol sales and fatal alcohol poisonings: A time-series analysis. Addiction. 2002. 97(8): 1037-40.
Australian Government Department of Health and Ageing. National binge drinking strategy: About the campaign [online]. 2009 [cited 14 December 2009]. Available from: URL link
World Health Organisation. Defining sexual health: A report of a technical consultation of sexual health [online]. 21 December 2006 [cited 15 December 2009]. Available from: URL link
Australian Drug Foundation. Safe partying for all ages [online]. 2008 [cited 13 December 2009]. Available from: URL link
State Government of Victoria. Tips for a safe night out drinking [online]. 2009 [cited 13 December 2009]. Available from: URL link 
All content and media on the HealthEngine Blog is created and published online for informational purposes only. It is not intended to be a substitute for professional medical advice and should not be relied on as health or personal advice. Always seek the guidance of your doctor or other qualified health professional with any questions you may have regarding your health or a medical condition. Never disregard the advice of a medical professional, or delay in seeking it because of something you have read on this Website. If you think you may have a medical emergency, call your doctor, go to the nearest hospital emergency department, or call the emergency services immediately.