What is assisted bleaching?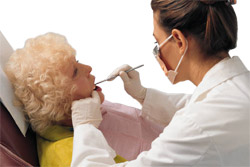 Assisted bleaching is similar to bleaching your teeth at home, except that it is done in the dental clinic and often uses higher concentrations of bleaching agents. It can be performed as a "one-off treatment" or as a series of treatments depending on your needs. It is very rarely done as a series of treatments.
The assisted bleaching technique is popular as it takes dramatically less time than power bleaching. However, the shade change with this method will be less than with power bleaching, as hydrogen peroxide is usually not used.

How assisted bleaching works
This is a generalised procedure for assisted bleaching:
The dentist first conducts a full clinical examination and determines the cause of the discolouration. It should be decided if bleaching is the best method treatment for this patient – for example, perhaps veneers and crowns may be a better alternative.
The dentist will take clinical photographs of how the teeth look before and after the treatment.
Any fillings that have decay around them may be removed and replaced as a temporary measure, because the colour of the teeth will change.
A thorough scale and polish will be completed, especially on the teeth that are expected to get bleached.
You will be asked to open your mouth wide, and the dentist will take some moulds to make the bleaching trays that will fit only to your mouth.
You will be recalled after the bleaching trays have been made and they will be tried in your mouth to see how they fit.

Lip retractors and cotton are placed in your mouth to protect the gums and the inside of your lips and cheeks.
The tray will be loaded with a bleaching agent of the dentist's choice.
The tray is then placed into your mouth and the dentist will wipes away all the excess agent from around your gums and lips.
The tray is left in the mouth for about 30 minutes and then everything is cleaned with warm water.

The procedure is sometimes repeated at the dentist, but usually the dentist will tell you how to use it yourself. You can then complete this at home (home bleaching).
You need to return to your dentist for review 10–14 days after the treatment.

The dentist will examine your mouth for any adverse effects.
The dentist will assess if there has been some improvement by comparing what shade your teeth were before to what shade your teeth are now.
The dentist will most likely tell you to continue using the bleaching trays for a few more weeks, and a review appointment will me made for you 2–3 weeks later.
The second review is the same as the first, except that the dentist may take some pictures of your teeth to compare the difference. At this stage, the dentist will probably tell you to touch up now and then, rather than using it every day.

Efficacy and side effects
There has been very little research into assisted bleaching. It appears likely that only assisted bleaching, without home application, results in a poor shade change compared to using a combination of treatments. Therefore, assisted bleaching is very rarely the only method used to whiten your teeth.
Side effects primarily include tooth sensitivity and gum irritation.
Kindly written by Dr Akhil Chandra BDSc (Hons UWA)
Dentist, Whitfords Dental Centre, and Editorial Advisory Board Member of the Virtual Dental Centre
More information
| | |
| --- | --- |
| | For more information on various bleaching techniques for teeth, including home bleaching, assisted bleaching, power bleaching, the thermocatalytic technique and the walking bleach technique, see Teeth Whitening. |
References
Pretty IA, Ellwood RP, Brunton PA, Aminian A. Vital tooth bleaching in dental practice: 1. Professional bleaching. Dent Update. 2006 Jun;33(5):288-90, 93-6, 99-300 passim.
Sulieman M. An overview of bleaching techniques: 2. Night Guard Vital Bleaching and non-vital bleaching. Dent Update. 2005 Jan-Feb;32(1):39-40, 2-4, 6.
Deliperi S, Bardwell DN, Papathanasiou A. Clinical evaluation of a combined in-office and take-home bleaching system. J Am Dent Assoc. 2004 May;135(5):628-34.
All content and media on the HealthEngine Blog is created and published online for informational purposes only. It is not intended to be a substitute for professional medical advice and should not be relied on as health or personal advice. Always seek the guidance of your doctor or other qualified health professional with any questions you may have regarding your health or a medical condition. Never disregard the advice of a medical professional, or delay in seeking it because of something you have read on this Website. If you think you may have a medical emergency, call your doctor, go to the nearest hospital emergency department, or call the emergency services immediately.