The menstrual cycle continued
During week 2 of the menstrual cycle, the uterus continues in the proliferative phase to renew the endometrium.
As part of the ovarian cycle, the dominant follicle continues to develop within the ovary. Towards the end of this week, generally between days 10 and 14, ovulation occurs.

When do I have the best chance of conceiving?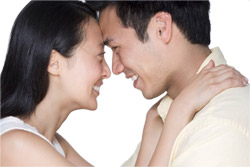 If you are planning to fall pregnant, the best time to have intercourse is around the period of ovulation. Ovulation refers to the release of the egg from the ovary.
Some signs that you are ovulating include:
The cervical mucus becomes thinner and more stretchy;
The resting body temperature rises 0.2–0.3 degrees. This is best measured first thing in the morning before rising from bed. This change can be detected if body temperatures are recorded for several days before ovulation; and
There is a rise in luteinising hormone (LH), which occurs 24 hours before ovulation. This can be detected with a home testing kit.
The most likely time to become pregnant is within 24 hours of the cervical mucus consistency and body temperature changing. Normal sperm are capable of fertilising the oocyte up to 72 hours after ejaculation, and the oocyte can be fertilised 12 hours before and 24 hours after ovulation. This means that the peak fertility period is from 3 days before ovulation to 2 days after. Assuming day 1 is the first day of a woman's period, for most women the peak fertility period occurs in days 11–16 of their menstrual cycle.

Pregnancy week by week
More information
| | |
| --- | --- |
| | For more information on foetal development and maternal changes during pregnancy, see Stages of Pregnancy. |
| | |
| --- | --- |
| | For more information about pregnancy, including preconception advice, stages of pregnancy, investigations, complications, living with pregnancy and birth, see Pregnancy. |
References
Moore KL, Persaud TVN. The Developing Human: Clinically Oriented Embryology (7th edition). Philadelphia: Saunders; 2003. [Book]
O'Connor V, Kovács G. Obstetrics, Gynaecology and Women's Health. Port Melbourne, VIC: Cambridge University Press; 2003. [Book]
All content and media on the HealthEngine Blog is created and published online for informational purposes only. It is not intended to be a substitute for professional medical advice and should not be relied on as health or personal advice. Always seek the guidance of your doctor or other qualified health professional with any questions you may have regarding your health or a medical condition. Never disregard the advice of a medical professional, or delay in seeking it because of something you have read on this Website. If you think you may have a medical emergency, call your doctor, go to the nearest hospital emergency department, or call the emergency services immediately.