Bounce Physiotherapy
Perth Massage Therapist, Balcatta Physiotherapist
Bounce Physiotherapy currently has no massage appointments available for booking online. Please call Bounce Physiotherapy for an appointment.
736 appointments available


BOOK NOW
1
person booked here in the last day.
Care and Commitment to Your Well Being.
Bounce Physiotherapy has been a provider of high standard physiotherapy, massage, pilates and rehabilitation services for more than 15 years. Our commitment is to provide the "best quality care for all your pain and injury requirements" fitting in with our vision.
Our dedicated staff of physiotherapists and massage therapist are constantly upskilling via continuing education to maintain our high standards and be at the forefront of evidence based practice.
All new clients to the practice require an initial consult. At your initial consult, your physiotherapist will conduct a detailed examination to determine your problem and the reasons for it.
A treatment plan will then be discussed before commencing treatment. The initial consult last for about 40 minutes. New clients are required to book a double appointment for this. You can do so by booking two consecutive 20-minute appointment slots. For example, book 3.40 and 4pm for a 40-minute consult.
Standard consults are 20 minute appointments.
The Bounce Guarantee
If for any reason you are not 100% happy with the service we provide, a full refund will be given, no questions asked.
Practice Information
CONTACT DETAILS
Suite 19 / 257 Balcatta Road
Balcatta, WA 6021

(08) 9344 7...

(08) 9344 7...
Location
Gallery
Staff at Bounce Physiotherapy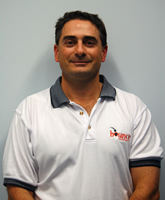 Sandro has been a clinician for over 20 years. His many credentials include: Former National Chair...
More...
Reviews for Bounce Physiotherapy
There are currently no reviews for Bounce Physiotherapy.
6021
Balcatta
WA
Massage