Respiratory infection in QLD
Search
Search results for ''
Respiratory infection specialists in Queensland
3 results found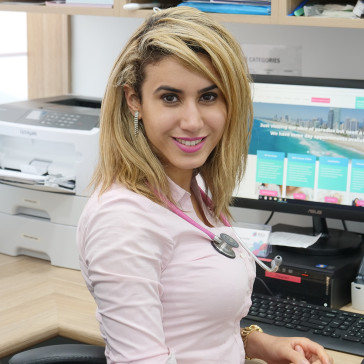 Stockland Shopping Centre,
Shop 8 / 1 Pitcairn Way
,
Pacific Pines, QLD 4211
Bulk Billing
Patients with Medicare cards (usually Australian residents) will have no out-of-pocket costs for standard appointments with bulk billing practitioners (in most cases), as it will be billed directly to Medicare.
Ok, got it
Bilk Billing
Dr Norah Sadek is a GP from London, England.
She graduated from St George's University of London in 2011. She carried out her...
Dr Sadek has a Diploma in Women's Health & Family Planning and enjoys practising Minor Surgery and Facial Aesthetics. She has a specialist interest in chronic disease management such as Diabetes and Respiratory Health and takes a proactive approach to health promotion.
Go to Profile Redlands Specialist Centre Suite 19/11 / Weippin Street
,
Cleveland, QLD 4163 19 / 16 Weippin Street
,
Cleveland, QLD 4163
Browse by location
Browse by gender
Help