Introduction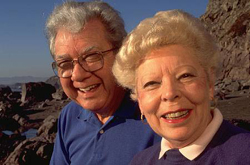 Alzheimer's disease is characterised by the progressive decline of cognitive function including language, behaviour, emotions, judgement and the ability to do complex tasks. As the disease progresses, so too does the level of assistance your loved one requires. Placement into an aged care home is often necessary.
The decision to place a loved one with dementia into an aged care home is one of the most difficult decisions you can make. It is a life event of enormous significance. There are usually many reasons for the move. Some major reasons include:
Your own health (stress and medical conditions);
Difficult behaviour from your loved one (aggression, irritability, behavioural problems and inertia);
Believing your loved one requires more skilled care than you can give (medical problems on top of dementia, incontinence, difficulties with mobilising); and
Needing more help from other people that you can't get (either from other friends and family members, or from support services).
Following this decision, there are a number of practicalities that must be attend to, including organising assessment through an Aged Care Assessment Team (ACAT), choosing an aged care facility, the actual move, and planning care within the home.

When to discuss transition into an aged care home with your doctor
Moving your loved one into an aged care home is generally considered following an illness or when you reach a "breaking point". You may be able to ease the transition into a aged care home by talking about it with your doctor early on. By discussing your needs with your doctor early, you may gain access to some additional home services, which may allow you to delay the move or, at the very least, allow a timely smooth transition before reaching breaking point.
The more you feel in control, the more able you are to find help and make well thought out decisions. Be open with your doctor regarding your own wellbeing, including your health, level of burden, grief, guilt, lack of participation in social or recreational activities, and mood.

Practical aspects of moving into an aged care home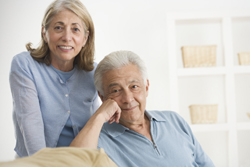 Moving a loved one into an aged care home is a process. First of all, an ACAT (or ACAS in Victoria) will assesses whether your loved one is eligible for Australian Government subsidised care in an aged care home (low or high level care). The ACAT can provide you with information about finding a home, how to apply, accepting a place in a home, and moving in. Some aged care homes have additional facilities for residents with dementia, including specially trained staff, clear signage and safe wandering areas. The ACAT will provide names and addresses of homes with these additional facilities.
You may find these practicalities difficult due to your own physical health or the high care needs of your loved one (behaviour or cognitive impairments), which can stop you from making an extensive search for an appropriate home. Depression, psychological distress and tension between family members may also make these practicalities difficult. If possible, enlist support from people you trust to help you.
Once a place has been offered, a decision will need to be made quickly regarding acceptance of the place. The move generally takes place within seven days of accepting the place. It is recommended that you begin to plan the move in consultation with other family members as early in the process as possible.
It is advised to make a list of care needs before entering a facility. This includes:
Physical needs

Diet
Daily activities that require assistance (e.g. toileting, showering, dressing)
Nursing care (e.g. medications, catheters, wounds)
Other health care needs (e.g. physiotherapy, occupational therapy, podiatry, etc).

Emotional, social and spiritual needs

Hobbies
Community participation
Religious provisions
Visits from family and friends

The use of dementia medication in aged care homes
As Alzheimer's disease progresses, your loved one's ability to perform activities of daily living decreases, and behavioural and psychiatric difficulties are experienced more often. Common behaviour symptoms include apathy, low mood, delusions, agitation, irritability and other behaviours (pacing and rummaging). This means your loved one will require a considerable amount of staff assistance in the aged care home (one estimate is an extra 229 hours per year is spent on dementia patients, compared to residents without dementia).
Commencing or continuing medical treatment to reduce difficult behaviours can reduce health care costs and improve your loved ones wellbeing. Current medications used for Alzheimer's disease are cholinesterase inhibitors, including donepezil (Aricept), rivastigmine (Exelon), galantamine (Reminyl) and tacrine (Cognex). Chalinesterase inhibitors have been shown to have beneficial effects on hallucinations, delusions, agitation, anxiety, depression and apathy.
Studies have shown that up to 47% of patients living in aged care homes had their cholinesterase inhibitors discontinued over a period of one year. Furthermore, the move into an aged care home can be associated with a decrease in cognitive function and a more rapid rate of progress. Therefore, it is important for you to liaise with the doctor and staff at the aged care home to discuss the continued use of cholinesterase inhibitors and include their use in your loved one's care plan.

Caring for the emotional aspects of the transition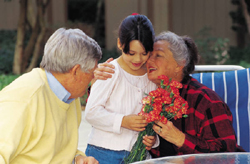 Transition into an aged care home for your loved one means living with new people in new surroundings while relying on other people to do some tasks. Loved ones with dementia can be disturbed by change. The transition into a home can be confusing and frightening. "I want to go home" is a common phrase.
It may be possible to gradually introduce your loved one into the home, and it is suggested that you prepare their room with as many familiar items as possible. Some homes offer a 'buddy system' that allows a family member or friend to stay in the home while your loved one becomes familiar with the surroundings. Counselling may be available; otherwise, you can let the staff know if help is needed to cope with the changes.
As for you, the transition can cause emotional distress, including significant feelings of guilt. Caregiving can be a career, and the transition signals a major change in your career. Alzheimer's Australia provides a number of suggestions for coping with the transition. These include visiting, advice on how to part with your loved one, activities to try when you visit, and practical ways to continue their care (e.g. helping out at mealtimes, joining in some activities). Support groups are available which may help lessen the guilt and further help you with the transition.

Planning ahead
The transition of your loved one with dementia into an aged care home can cause significant distress to both you and your loved one. Studies have shown that you can reduce this distress by broaching the subject early before your "breaking point", planning the practicalities in advance and addressing both of your emotional needs. Finally, talk to your doctor about continuing medication in aged care homes to reduce nursing costs, reduce care required in the home, and help your loved one.
More information
| | |
| --- | --- |
| | For more information on different types of dementia, memory loss and Alzheimer's disease, see Dementia. |
References
Therapeutic Guidelines of Australia. Therapeutic Guidelines: Psychotropic. Melbourne: Therapeutic Guidelines Limited; 2003.

Wilson RS, McCann JJ, Li Y, Aggarwal NT, Gilley DW, Evans DA. Nursing home placement, day care use, and cognitive decline in Alzheimer's disease. Am J Psych. 2007; 164(6): 910-5.
Buhr GT, Kuchibhatla M, Clipp EC. Caregivers' reasons for nursing home placement: Clues for improving discussions with families prior to the transition. Gerontologist. 2006; 46(1): 52-61.
Gaugler JE, Pearlin LI, Leitsch SA, Davey A. Relinquishing in-home dementia care: Difficulties and perceived helpfulness during the nursing home transition. Am J Alzheimers Dis Other Demen. 2001; 16(1): 31-42.
Bindoff HP, Clifford CA, Young JL. Caregivers of family members with dementia and disability: A comparative study of wellbeing. J Fam Stud. 1997; 3(2): 183-95.
Australian Government Department of Health and Ageing. Aged Care Australia [online]. Commonwealth of Australia. 2006 [cited 7 December 2008]. Available from: [URL Link]
Grossberg GT. Impact of rivastigmine on caregiver burden associated with Alzheimer's disease in both informal care and nursing home settings. Drugs Aging. 2008; 25(7): 573-84.
Dybicz SB, Keohane DJ, Erwin G, McRae T, Shah SN. Patterns of cholinesterase-inhibitor use in the nursing home setting: A retrospective analysis. Am J Geriatr Pharmacother. 2006; 4(2): 154-60.
Tariot PN, Cummings JL, Katz IR, Mintzer J, Perdomo CA, Schwam EM, et al. A randomized, double-blind, placebo-controlled study of the efficacy and safety of donepezil in patients with Alzheimer's disease in the nursing home setting. J Am Geriatr Soc. 2001; 49(12): 1590-9.
Winblad B, Kilander L, Eriksson S, Minthon L, Båtsman S, Wetterholm AL, et al. Donepezil in patients with severe Alzheimer's disease: Double-blind, parallel-group, placebo-controlled study. Lancet. 2006; 367: 1057-65.
Wallin ÅK, Andreasen N, Eriksson S, Båtsman S, Näsmann B, Ekdahl A, et al. Donepezil in Alzheimer's disease: What to expect after 3 years of treatment in a routine clinical setting. Dement Geriatr Cogn Disord. 2007; 23(3): 150-60.
Alzheimer's Australia. Residential Care [online]. 2005 [cited 7 December 2008]. Available from: [URL Link]
All content and media on the HealthEngine Blog is created and published online for informational purposes only. It is not intended to be a substitute for professional medical advice and should not be relied on as health or personal advice. Always seek the guidance of your doctor or other qualified health professional with any questions you may have regarding your health or a medical condition. Never disregard the advice of a medical professional, or delay in seeking it because of something you have read on this Website. If you think you may have a medical emergency, call your doctor, go to the nearest hospital emergency department, or call the emergency services immediately.