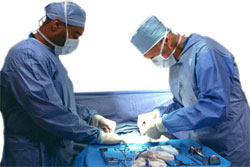 What is radical perineal prostatectomy?
A radical perineal prostatectomy is a surgical procedure to completely remove the prostate from a small incision in the perineum.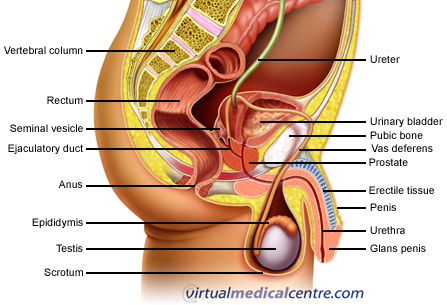 This procedure was first introduced by Buchler in 1869 and was made popular in the United States by Young, who first described the method in 1905. Radical perineal prostatectomy remained the primary surgical treatment for prostate cancer until the 1970s when other approaches, such as retropubic prostatectomy became favourable. Retropubic prostatectomy gained popularity as is allows for removal of the prostate and lymph nodes at the same (as lymph nodes are common sites for the cancer to spread to). However, there has been resurgence in the perineal approach with a trend towards minimally invasive surgery, identifying men earlier in the disease (with prostate specific antigen (PSA) screening) and algorithms to predict men at high risk for lymph node involvement.
The perineal approach offers several technical advantages, including reduced operative time, low blood loss, low post-operative narcotic pain relief, and shorter periods of hospitalisation. The only disadvantage to radical perineal prostatectomy is that if pelvic lymph nodes are affected and require removal, it will need to be performed through a small separate abdominal incision or laparoscopically.

Why is a radical perineal prostatectomy performed?
Surgical removal of the prostate is carried out on men with organ–confined prostate cancer (prostate cancer that has not spread and involved other organs of the body).
Other factors, including the man's life expectancy and other comorbidities, are also taken into account when considering the procedure.

Who is not suitable for radical perineal prostatectomy?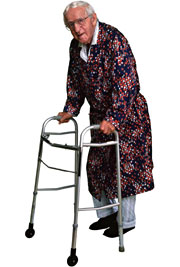 This procedure is not suitable for men with:
Conditions that limit correct positioning during the procedure, including:
Very large prostates, as they present a technical challenge. However, hormone therapy prior to surgery may be used to reduce the prostate size to aid surgical removal.

What are the alternatives to this procedure?
Alternative approaches to radical perineal prostatectomy include:
Retropubic prostatectomy: A surgical procedure in which the prostate is removed through an incision in the abdomen. This allows concomitant removal of affected lymph nodes and the removal of larger prostate glands; however, the length of hospitalisation and immediate post-operative morbidity may be increased.
Laparoscopic prostatectomy: A surgical procedure in which the prostate is removed laparoscopically. This involves two surgeons with a prolonged operation time without any advantages in terms of patient morbidity or length of hospitalisation.
Alternatives to radical prostatectomy include:
Observation;
Hormonal deprivation; and
Radiation therapy.
With the exception of radiation therapy, none of the above (observation and hormonal deprivation) are considered curative. However, these may be considered in certain cases in which surgery is high risk and the patient refuses other treatment options. Radiation therapy may be curative, with equivalent five and ten year survival rates to radical prostatectomy. However in young men with a life expectancy of 15 years or more a radical prostatectomy is favoured.

What happens during a radical perineal prostatectomy?
Radical perineal prostatectomy is performed under a general anaesthetic with the man in an exaggerated lithotomy position. The lithotomy position involves the man being positioned on their back with knees bent and positioned above the hips, and the legs spread apart and resting in stirrups. A single inverted U-shaped incision is made in the perineum (the region of skin between the scrotum and the anus).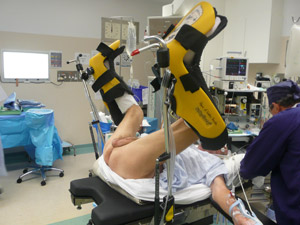 Figure 1: Position of the patient on the operating table using Yellowfin stirrups.
A series of dissections are then made to facilitate removal of the prostate.
After the prostate is removed, the perineum is sutured closed. A soft rubber tube is put in place to allow free drainage of fluids from the area while in hospital. A urethral catheter is also inserted to allow the drainage of urine, which is later removed 12 days after the operation.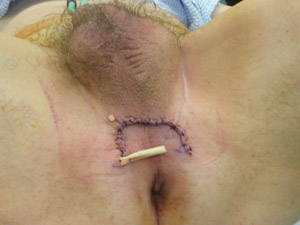 Figure 2: The perineal wound is closed with the drain in place.

What happens after the operation?
After the operation, minimal pain relief is required. Clear fluids can be consumed immediately afterwards, and a normal diet as tolerated. Early ambulation is encouraged, such as moving from the bed to the chair for meals one day after the operation. Most men can be discharged from hospital 48 hours after surgery.

Results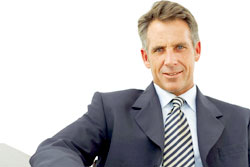 The three most important outcomes that the urologist is aiming for in prostate cancer surgery are:
Removal of the prostate with clear surgical margins;
Preservation of continence; and
Preservation of erectile function.

Removal of the prostate with clear surgical margins
Radical perineal prostatectomy offers an excellent opportunity for cancer control. When compared to an alternative approach, retropubic prostatectomy, there is no difference in the invasion of cancer into surrounding structures or of positive surgical margins. Further, there is no difference in disease progression or probability of survival between the two groups.

Preservation of continence
The continence outcomes from this procedure are excellent. In a study involving over 750 men undergoing radical perineal prostatectomy, 95% no longer required a sanitary pad for urinary incontinence at 12 months post-procedure. Another study reported that 66–84% of men at 12 months had returned to pre-procedure urinary function and bother scores. The number of men requiring the use of a sanitary pad for urinary incontinence decreases with time. Post-operative pad-free rates with radical perineal prostatectomy have been shown to be 38% at 1 month, 53% at 2 months, 74% at 4 months, 85% at 6 months and 96% at one year.

Preservation of erectile function
Studies have shown that nerve-sparing radical prostatectomy achieves a 77% potency rate after more than one year post-operation. Another study reported erections sufficient for intercourse in 76% of men potent before open radical prostatectomy with bilateral nerve-sparing surgery.

Specific populations
Radical perineal prostatectomy is favourable in certain patient populations. In those with an existing kidney transplant, radical prostatectomy for localised prostate cancer is the best curative option. The perineal approach is optimal because it avoids the retropubic space, where surgery could potentially cause damage to the grafted kidney, or damage an area that might be needed in the future should a second transplant be required.
For those patients who have previously had an inguinal hernia repaired with mesh, the retropubic approach may be impossible and hence in these patients the perineal approach is preferred.

Complications
Bleeding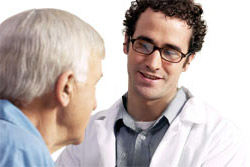 In radical perineal prostatectomy a group of blood vessels known to cause bleeding is left undisturbed and hence bleeding requiring transfusion is unusual. Generally only 1% or less of patients require a blood transfusion. Blood loss typically ranges between 400 and 600 mL.

Rectal injury
Rectal lesions are reported to occur in 1–3% of cases. To minimise this risk, all patients should undergo a thorough pre-operative bowel preparation before this procedure, and indeed to all radical prostatectomy operations. Due to the proximity of the prostate to the rectum, it is possible to inadvertently enter the rectum. This is easily closed at the time of surgery and antibiotics are given to prevent infection. The need for a colostomy after rectal injury is rare. In a series of 752 patients undergoing radical perineal prostatectomy, the rectal injury rate was 0.006%.

Neuropraxia
Due to the position in which this surgery is carried out (extreme lithotomy position) rarely patients may suffer from mild and transient nerve damage (neuropraxia) in their lower extremities. Symptoms include numbness, tingling and muscular weakness of the lower extremities. Complete recovery generally occurs within a couple of weeks, though patients may require the use of physical therapy and walking aids early on. Several strategies including correct patient positioning, limiting the time spent in the extreme lithotomy position and the use of Yellofin(tm) stirrups make this complication less likely to occur.

Anal sphincter incontinence
Anal sphincter incontinence is the loss of normal function of the anal sphincter muscles, which normally help to retain stool. As a result involuntary excretion and leaking of faecal matter may occur. This is a rare complication. One study did not demonstrate any difference in faecal incontinence rates between patients who had either a radical perineal prostatectomy or a radical retropubic prostatectomy.

Urinary continence
Urinary incontinence refers to any involuntary leakage of urine. Continence outcomes are similar to those of open or laparoscopic prostatectomy. Urinary incontinence does improve after time, but 2–3% of patients will require additional surgery to cure incontinence.
Kindly written by Dr Alistair Cameron-Strange MbChb, FRCSEd, FRACS (Urol); Consultant Urologist at The Prince of Wales and The Prince of Wales Private Hospitals, NSW and http://www.hifusydney.com.au/. Editorial Advisory Board Member of the Virtual Cancer Centre.
More information
| | |
| --- | --- |
| | For more information on prostate cancer, including diagnoses, types of treatments, and some useful tools, videos and animations, see Prostate Cancer. |
References
Graham SD, Keane TE, Glenn JF (eds). Glenns' Urologic Surgery (6th edition). Philadelphia: Lippincott Williams & Wilkins; 2004. [Book]
Young HH. The early diagnosis and radical cure of carcinoma of the prostate. Being a study of 40 cases and presentation of a radical operation which was carried out in four cases. 1905. J Urol. 2002;168(3):914-21. [Abstract]
Routh JC, Leibovich BC. Adenocarcinoma of the prostate: Epidemiological trends, screening, diagnosis, and surgical management of localized disease. Mayo Clin Proc. 2005;80(7):899-907. [Abstract | Full text]
Gillitzer R, Thüroff JW. Relative advantages and disadvantages of radical perineal prostatectomy versus radical retropubic prostatectomy. Crit Rev Oncol Hematol. 2002;43(2):167-90. [Abstract]
van Balken MR, Debruyne FMJ. Neoadjuvant hormonal treatment prior to curative treatment in prostate cancer. In: Mydlo JH, Godec CJ (eds). Prostate Cancer: Science and clinical practice. San Diego: Academic Press; 2003: 415-21. [Book]
Frazier HA, Robertson JE, Paulson DF. Radical prostatectomy: The pros and cons of the perineal versus retropubic approach. J Urol. 1992;147(3 Pt 2):888-90. [Abstract]
Harris MJ. Radical perineal prostatectomy: Cost efficient, outcome effective, minimally invasive prostate cancer management. Eur Urol. 2003;44(3):303-8. [Abstract | Full text]
Boustead G, Coetzee L. Radical perineal prostatectomy: A combined UK and South African series of 752 patients. Urology. 2006;68(Suppl 1):143-4. [Abstract]
Young MD, Weizer AZ, Silverstein AD, et al. Urinary continence and quality of life in the first year after radical perineal prostatectomy. J Urol. 2003;170(6 Pt 1):2374-8. [Abstract]
Wiygul JB, Harris MJ, Dahm P. Early patient self-assessed outcomes of nerve-sparing radical perineal prostatectomy. Urology. 2005;66(3):582-6. [Abstract]
Kundu SD, Roehl KA, Eggener SE, et al. Potency, continence and complications in 3,477 consecutive radical retropubic prostatectomies. J Urol. 2004;172(6 Pt 1):2227-31. [Abstract]
Shiroki R, Mori S, Miyakawa S, et al. SIU 2007 MP (18.20): Comparison of prospective and longitudinal assessment of health and disease related QOL between radical perineal and retropubic prostatectomy in men with localized prostate cancer. Presented at the 29th Congress of the Société Internationale d'Urologie (SIU). Paris, France: 5 September 2007. [Abstract]
Hafron J, Fogarty JD, Wiesen A, Melman A. Surgery for localized prostate cancer after renal transplantation. BJU Int. 2005;95(3):319-22. [Abstract | Full text]
Dahm P, Yang BK, Salmen CR, et al. Radical perineal prostatectomy for the treatment of localized prostate cancer in morbidly obese patients. J Urol. 2005;174(1):131-4. [Abstract]
Korman HJ, Mulholland TL, Huang R. Preservation of fecal continence and bowel function after radical perineal and retropubic prostatectomy: A questionnaire-based outcomes study. Prostate Cancer Prostatic Dis. 2004;7(3):249-52. [Abstract | Full text]