Introduction to Pilates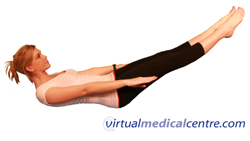 Pilates is a unique form of exercise that is designed to condition the entire body through focus on alignment, core strength, breathing and flowing movement. The Pilates principals were developed by Joseph Pilates during the first world war to facilitate rehabilitation of returned soldiers. Pilates has developed into a form of exercise that is beneficial and safe for people ranging from Olympic athletes to those recovering from surgery. Pilates exercises are aimed to improve muscle control and tone, flexibility, balance, breathing pattern, and posture.
Pilates works on creating stability in the lower back and pelvic region, which allows the body to move with greater efficiency and form. This is achieved through contraction of the deep abdominal muscles and pelvic floor. Pilates exercises involve all parts of the body, particularly the arms, legs, and abdominal muscles. By strengthening certain muscle groups and stretching others, better posture is achieved, which reduces muscle and joint pain.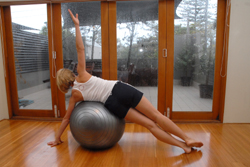 Exercises may be floor based, using gravity to provide resistance, and involving small pieces of equipment such as exercise balls and resistance bands. Other classes are studio based, using equipment such as 'the reformer' or a 'trapeze table' that can be adjusted through many different positions to facilitate strengthening and stretching in lying, sitting, standing and kneeling positions. Resistance is provided by adjustable springs.
Clinical Pilates classes are those run by physiotherapists. Group classes are available, or individualised programs can be created by certified Pilates instructors to address postural and strengthening needs.

Who is Pilates suitable for?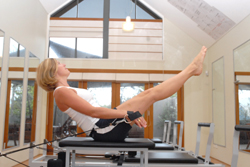 Because there is a wide range of Pilates exercises with varying positions and difficulty, it is a suitable form of exercise for people with different levels of ability. It may be particularly appropriate for those who have tried other forms of exercise in the past and not found them suitable. It can be enjoyed by any person who is aiming to improve their strength, posture, flexibility and tone.
Specific groups of people who may benefit from Pilates include:
Any person with a medical condition should check with their doctor before starting Pilates. People with specific needs or limitations should take part in studio or clinical Pilates, where the ratio of participants to instructors is low (equal to or less than 4:1).

Risks of Pilates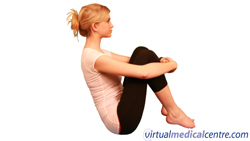 As with any exercise, poor technique carries the risk of injuring muscles and joints. It is important that a qualified Pilates instructor provides ongoing feedback to ensure safety, and to maximise the benefits of the exercise. The instructor should also be made aware of any injuries, illnesses, conditions, or relevant medications. Certain exercises, especially those on equipment, involve balancing and therefore it is possible to fall. The instructor is involved in choosing exercises that are at an appropriate level to avoid this happening.

Benefits of Pilates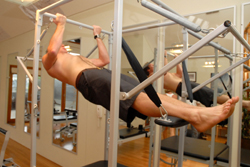 Pilates provides the following benefits:
Improved posture;
Improved muscle control;
Improved muscle tone;
Improved flexibility;
Improved balance;
Improved 'core stability' – support for the lower back, reduced 'wear and tear' on joints, a solid 'core' which improves power and balance in sports and dance; and
Improved pelvic floor strength.
Advantages of Pilates as a form of exercise include:
Able to be extensively modified to suit individuals;
Low impact, so is kind to joints;
Can be progressed so that the program is constantly challenging;
Wide range of exercises and equipment keeps it interesting; and
Principles can be applied to everyday life, resulting in maximum benefit. For example, deep abdominal muscle contraction should be maintained during activities that 'stress' the back. Posture can be maintained during activities at work and home.

Limitations of Pilates
Pilates can be an expensive form of exercise, especially if it is studio based. Floor based and group classes are cheaper. Pilates books and DVDs are available, however it is recommended that Pilates is initially carried out with an instructor who is able to provide feedback. Clinical Pilates (supervised by physiotherapists) may be eligible for health fund rebate.

Effect of Pilates may be limited if it is carried out once a week, without practice of postures and contractions in between. Incorporation of principles into lifestyle results in maximum benefit.
Pilates is not designed to replace high intensity cardio fitness exercise (e.g. running). Studies indicate that performing mat based Pilates at an intermediate to advanced level would promote general fitness if done often enough (4 or more days per week) and for an appropriate length of time (45-60 minutes). However, different movements lead to different increases in the heart rate so benefits are dependent on the individual routine.
Certain people will have conditions that are exacerbated by Pilates. This needs to be assessed on an individual basis.
Some people may have difficulty accessing Pilates classes, particularly those who live in remote or rural areas, or those who speak limited English.
Large pieces of Pilates equipment, such as those used in a studio ('the reformer', 'trapeze table') are extremely expensive, so most people are not able to purchase their own to use at home.
Pilates alone is unlikely to lead to significant weight loss unless it is combined with a balanced diet and cardio fitness exercises.

Pilates in pregnancy

During pregnancy, the abdominal (tummy) muscles are stretched to make room for the growing baby. This may weaken the muscles, particularly the pelvic floor muscles, responsible for controlling the bladder and bowel, and the deep abdominal muscles, responsible for providing support to the back. With reduced support from ligaments and abdominal muscles, many pregnant women experience back pain, and weak pelvic floor muscles can result in difficulty controlling the bladder or bowel (incontinence) and can impact on sexual function.
Pilates is an ideal exercise during pregnancy as it is designed to strengthen the deep abdominal and pelvic floor muscles. Core stability exercises may take the stress off the back and pelvic floor, and help position the baby for delivery. Pelvic floor exercises have been shown to reduce urine leakage in women with stress incontinence and women who have to rush to get to the toilet on time.
For more information, see Pilates in pregnancy.

Pilates for back pain

Back pain is extremely common. In Australia, 15–20% of the population report having back pain or disc problems, roughly equal to four million Australians. It is estimated that 85% of the population will experience back pain at some point in their lives.
Pilates is a particularly good exercise for many people with back pain as it is designed to strengthen the deep abdominal and pelvic floor muscles, which provide support to the back. Pilates has been found to reduce chronic back pain and the disability associated with back pain. These improvements are maintained over a long period of time.
For more information, see Pilates for back pain.
References
Kopitzke R. Pilates: A fitness tool that transcends the ages. Rehab Management. 2007; 20(6): 28,30-1.
Conditioning by Pilates. Harvard Women's Health Watch. 1999; 6(5): 7.
Beck R. Getting to the core. Using pilates to promote overall wellness during rehabilitation. Rehab Management. 2008; 21(2): 34,36.
Olson M, Myers Smith C. Pilates exercise: Lessons from the lab. IDEA Fitness Journal [online]. Inner IDEA. 2005 [cited 6 June 2008]. Available from URL: http://www.inneridea.com/ library/ pilates-research-pilates-lesson
Jago R, Jonker ML, Missaghian M, Baranowski T. Effect of 4 weeks of Pilates on the body composition of young girls. Preventive Medicine. 2006; 42(3): 177-80.
Segal NA, Hein J, Basford JR. The effects of Pilates training on flexibility and body composition: An observational study. Archives of Physical Medicine & Rehabilitation. 2004; 85(12): 1977-81.
Balogh A. Pilates and pregnancy. [Review] RCM Midwives. 2005; 8(5): 220-2.
Robinson L. Pilates in pregnancy: The Body Control method. Practicing Midwife. 2007; 10(3): 24-6.
All content and media on the HealthEngine Blog is created and published online for informational purposes only. It is not intended to be a substitute for professional medical advice and should not be relied on as health or personal advice. Always seek the guidance of your doctor or other qualified health professional with any questions you may have regarding your health or a medical condition. Never disregard the advice of a medical professional, or delay in seeking it because of something you have read on this Website. If you think you may have a medical emergency, call your doctor, go to the nearest hospital emergency department, or call the emergency services immediately.