Why should I put on weight during pregnancy?
All women should gain weight during pregnancy. Maintaining a healthy weight during pregnancy means you need to monitor you don't gain too much weight, while ensuring that your baby receives enough energy and nutrients for healthy development.
The added weight during pregnancy results from the growing baby, the amniotic fluid and placenta which surround and protect the foetus, additional fat stores, growing breast and uterine tissue as well as an increased quantity of blood.

How much weight should I put on during pregnancy?
The amount of weight you should gain during pregnancy depends on your BMI before you fell pregnant. If your doctor did not take your weight and BMI before you fell pregnant, they will use your weight and BMI from your first antenatal care appointment (which you should do as soon as you discover you are pregnant).
Body Mass Index (BMI) Calculator
This information will be collected for educational purposes, however it will remain anonymous.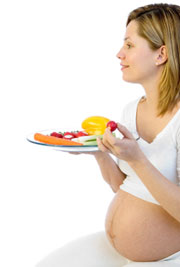 Healthy weight women (women with a BMI ≥18.5-24.99) who are pregnant can obtain sufficient energy with a healthy balanced diet. However, they will need to increase their overall food intake as the pregnancy progresses and foetal growth increases. Additional food intake is necessary to ensure they gain sufficient weight to account for their growing foetus. These women should expect to gain 11.5-16kg by the end of their pregnancy.
Women who are underweight (BMI <18.5) and those in the low end of the healthy weight range (BMI <20) are encouraged to gain weight (in additional to normal pregnancy weight gain) by eating above their energy requirements. This weight gain is associated with better foetal growth and women who are having difficulty gaining weight may benefit from professional help and advice. These women should expect to gain 12.5-18kg during pregnancy.
Overweight women (BMI ≥25) who are already pregnant should not attempt to lose weight during pregnancy. There are no demonstrated health benefits of pregnancy weight loss for these women and it may be harmful to the baby. These women should expect to gain 7-11.5kg during their pregnancy.
As being overweight or obese is associated with poor maternal and infant health outcomes, overweight women who are planning a pregnancy should ideally lose weight before they become pregnant. However obesity, like other symptoms of poor nutrition is related to health and socioeconomic inequalities, and losing weight can be a difficult process. Overweight women may benefit from professional advice while they are attempting to lose weight.
Table 1: Weight gain during pregnancy
|  Pre-pregnancy BMI |  Recommended Weight Gain |
| --- | --- |
|  BMI < 18.5 |  12.5 – 18.0kg |
|  BMI 18.5 – <25.0 |  11.5 – 16.0kg |
|  BMI 25.0 – <30.0 |  7.0 – 11.5kg |
|  BMI ≥30.0 |  5.0 – 9.0kg |

How much weight do women gain during pregnancy?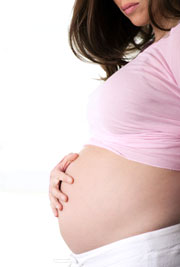 Only 30-40% of pregnant women gain weight within the recommended ranges for their BMI (see table). Some women fail to gain enough weight during pregnancy, although in developed countries over-nutrition before and during pregnancy is more of a concern. For example, in the United States 18-38% of women are obese when they become pregnant and the majority continue to over-consume and gain excessive weight during pregnancy. In Australia, 38% of all pregnant women gain excessive weight during pregnancy, while 26% gain insufficient weight. Amongst women who are overweight when they fall pregnant, 56% gain excessive weight during pregnancy. Many women fail to lose the weight they gain during pregnancy after childbirth.

What stages of pregnancy should I gain weight?
Women gain most of their additional pregnancy weight in the second and third trimesters of pregnancy. Most women gain about 3kg in the first trimester of pregnancy and an average of 0.5kg per week after that. Weight gain drops off again after 36 weeks.

Monitoring my weight gain in pregnancy
In order to reliably monitor pregnancy weight gain, a doctor will measure both a woman's weight and her BMI before pregnancy. Pre-pregnancy weight will enable accurate measures of weight change, while pre-pregnancy BMI will indicate how much weight a woman should gain whilst pregnant. Women should expect to be weighed and have their height measured in a preconception check-up.
More information
---
| | |
| --- | --- |
| | For more information about pregnancy, including preconception advice, stages of pregnancy, investigations, complications, living with pregnancy and birth, see Pregnancy. |
| | |
| --- | --- |
| | For more information on nutrition, including information on types and composition of food, nutrition and people, conditions related to nutrition, and diets and recipes, as well as some useful videos and tools, see Nutrition. |
References
National Health and Medical Research Council. Clinical Management Guidelines for the management of overweight and obesity in adults, adolescents and children in Australia. 2013. [cited 14 April 2014]. Available from: [URL Link]
Academy for Educational Development. Maternal nutrition during pregnancy and lactation. 2004. [cited 1 May 2014]. Available from: [URL Link]
Panel on Macronutrients & Standing Committee for the Scientific Evaluation of Dietary Reference Intakes. Energy. Chapter 5. Dietary Reference Intakes for Energy, Carbohydrate, Fiber, Fat, Fatty Acids, Cholesterol, Protein and Amino Acids (Macronutrients), National Academy of Sciences. 2005. [cited 1 May 2014], Available from [URL Link]
National Institute for Health and Clinical Excellence. Improving the health and nutrition of pregnant and breastfeeding mothers and children in low-income households. 2008. [cited 1 May 2014], Available from: [URL Link]
Cox JT, Phelan ST. Nutrition during pregnancy. Obstet Gynecol Clin N Am 2008; 35: 369-83. [Abstract]
Matin-Gronert, M. Ozanne, S. Maternal nutrition during pregnancy and health of the offspring. Information Processing and Molecular Signalling. 2006; 34(5): 779-82. [URL Link]
Murtagh J. 2007. John Murtagh's General Practice. 4th ed. McGraw-Hill, North Ryde, Australia. [Book]
Royal Australian and New Zealand College of Obstetricians and Gynaecologists. Management of Obesity in Pregnancy- C-Obs 49. 2013. [cited 1 May 2014]. Available from: [URL Link]
De Jersey SJ, Nicholson JM, Callaway LK, Daniels LA. A prospective study of pregnancy weight gain in Australian women. Aust NZ J Obs Gynaecol. 2012; 52(6): 545-51. [Abstract]
Mayo Clinic. Pregnancy Weight Gain. 2014. [cited 1 May 2014]. Available from:  [URL Link]
All content and media on the HealthEngine Blog is created and published online for informational purposes only. It is not intended to be a substitute for professional medical advice and should not be relied on as health or personal advice. Always seek the guidance of your doctor or other qualified health professional with any questions you may have regarding your health or a medical condition. Never disregard the advice of a medical professional, or delay in seeking it because of something you have read on this Website. If you think you may have a medical emergency, call your doctor, go to the nearest hospital emergency department, or call the emergency services immediately.