What is Frozen Shoulder (adhesive capsulitis)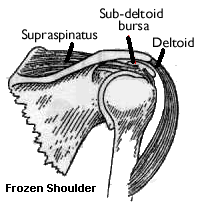 The term frozen shoulder is often used to describe situations where the shoulder is working at less than its optimal range of motion. The correct term for this condition is 'adhesive capsulitis' – a syndrome defined as 'the painful restriction of shoulder movement', due to an unknown cause. Secondary adhesive capsulitis refers to the condition when it is associated, or caused by an underlying illness or disorder. The image on the right is that of the affected joint components leading to Frozen Shoulder.

Statistics on Frozen Shoulder (adhesive capsulitis)
People who develop adhesive capsulitis are usually aged between 40-70 years. It is thought that 3% of people will develop the condition in their lifetime. There is no known racial preference, however, adhesive capsulitis is associated with certain conditions, particularly insulin-dependent diabetes.

Risk Factors for Frozen Shoulder (adhesive capsulitis)
It is thought that there are a number of risk factors predisposing an individual to developing adhesive capsulitis. Those suggested include shoulder trauma, surgery, diabetes, inflammatory conditions and inactivity of the shoulder. Autoimmune disease, cervical cancer and hyperthyroidism also appear to be linked to the condition.

Progression of Frozen Shoulder (adhesive capsulitis)
Adhesive capsulitis may be divided into 3 stages: pain, adhesion and recovery. The painful stage is associated with increasing pain and stiffness, lasting 3-8 months. Minor injury may be associated with the onset of symptoms. Initially the pain may be described as a generalised ache, progressing to severe pain with restricted movement. The adhesive stage is associated with increasing stiffness but decreasing pain, lasting 4-6 months. In the recovery stage, pain is minimal, with gradual improvement in shoulder movement and stiffness, however complete recovery is infrequent. A number of patients permanently lose full range of motion, however few experience serious disability.

How is Frozen Shoulder (adhesive capsulitis) Diagnosed?
Diagnosis is normally made based on symptoms and examination of the shoulder. X-rays may show abnormalities such as joint space narrowing and reduced bone density, however in early adhesive capsulitis they are often normal. Arthrography is not normally used. An MRI scan may be of value, but currently there is not enough evidence to justify routine use.

Prognosis of Frozen Shoulder (adhesive capsulitis)
Many patients continue to experience some symptoms of pain or stiffness despite conservative therapy. However, functional disability is rare.

How is Frozen Shoulder (adhesive capsulitis) Treated?
Treatment usually consists of using anti-inflammatory drugs to relieve pain and inflammation, combined with heat or ice packs. Exercises to build strength and improve movement are given, and it is important to persist at these because recovery is gradual but slow. In some cases steroid injections into the joint may be needed. In severe cases the affected shoulder may need to be manipulated under anaesthesia before an aggressive rehabilitation program can be commenced.

Frozen Shoulder (adhesive capsulitis) References
[1] Apley G. Concise system of orthopaedics and fractures. 2nd ed. 2001, Arnold [2] Collier, Longmore, Scally. Oxford handbook of clinical specialties, 6th ed. 2003, Oxford University Press. [3] Green S, Buchbinder R. Systematic review of randomised controlled trials of interventions for painful shoulder: selection criteria, outcome assessment, and efficacy. BMJ 1998;316:354-360 [4] Kumar and Clark. Clinical Medicine 5th ed. 2002. WB Saunders [5] Siegel L, Cohen N. Adhesive Capsulitis: a sticky issue. American Family Physician 1999 (online).
All content and media on the HealthEngine Blog is created and published online for informational purposes only. It is not intended to be a substitute for professional medical advice and should not be relied on as health or personal advice. Always seek the guidance of your doctor or other qualified health professional with any questions you may have regarding your health or a medical condition. Never disregard the advice of a medical professional, or delay in seeking it because of something you have read on this Website. If you think you may have a medical emergency, call your doctor, go to the nearest hospital emergency department, or call the emergency services immediately.