Introduction to CBT and smoking
Cognitive-behavioural therapy (CBT) is a psychotherapy used to help people with many different types of psychological problems. The therapy is based on changing maladaptive thinking patterns and the negative behaviours associated with them.
CBT is a promising psychological intervention for people who want to quit smoking because changing and restructuring thought processes, combined with new learning behaviours, is essential for people who want to effectively quit smoking and maintain cessation.
CBT alone does not usually have a significant effect on smoking cessation, but is very successful when combined with other quit strategies. Studies have shown that pharmacotherapy combined with CBT achieves high and stable abstinence rates. CBT is particularly effective for people who also experience anxiety or depression, or who are dependent on additional substances.
CBT tends to be more effective when conducted one-on-one with your healthcare professional, as this allows them to personalise the therapy to your individual thoughts and behaviours. Other people may benefit more from group CBT, so if this applies to you, let your doctor know.

Changing thinking patterns about smoking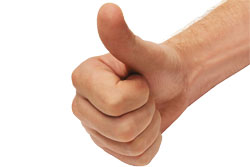 What you think and feel about smoking has a large impact on your behaviour. The behaviour in this case is smoking and any action that encourages smoking. This is why CBT for quitting smoking is focused on changing thinking patterns. Once you have changed the way you feel about smoking, a change in your behaviour should follow.
Your healthcare professional will place a large emphasis on reducing any feelings of hopelessness and self-criticism you may harbour. These negative feelings are common when smokers are attempting to quit, especially after they relapse. It is important to remember that a relapse only occurs after you have made an attempt, and any attempt to quit smoking is an improvement. Look at your attempt to quit as a mini-success that you can learn from, even when you relapse.
Before you attempt to quit, make sure your expectations are realistic. This is another aspect of changing your thinking patterns. While you may want to attempt quitting only once, it is not always possible. If you have this expectation, it will be harder for you to accept an unsuccessful attempt. This is not to say that you will definitely relapse! But be aware that relapse is a very real possibility and does not mean that you are unsuccessful.

CBT techniques for quitting smoking
Specific techniques include:
Individualised problem-solving strategies to help you cope with difficult environments and situations: May involve developing behaviours to avoid smoking when you are in environments where you are used to smoking, such as on coffee breaks;
Changing thinking patterns: You can cope better emotionally with the mood changes associated with nicotine withdrawal by working on the way you think about certain situations. For example, if when stressed the first thought that comes to mind is, "I need a cigarette," you can change this to, "I need some fresh air," or, "I need to slow my breathing." This will allow you to better handle stress without a cigarette.
Education about the quit process: The more you know and understand about nicotine dependence, quit strategies and withdrawal symptoms, the better equipped you will be to face the challenge of quitting.
Identifying social or environmental cues that trigger the urge for a cigarette: By determining which situations make you most desire nicotine, you can better avoid them. For example, if having a beer is a strong cue for lighting a cigarette, then drinking a soft drink instead may be a better option. In order to identify these cues, you may wish to use a diary to record every time you feel like a cigarette, and what you were doing and how you were feeling at the time.
Identifying motivational cues: If there are certain times/places/people/actions that make you feel more motivated to quit, visit them more often! A diary can help identify these cues as well.
Aversion therapy: Cigarette aversion can be achieved by highlighting all your negative associations to smoking. It may be helpful to construct a chart that links the number of cigarettes you smoke with the unpleasant feelings and poor mood you felt when you smoked that many cigarettes.
Social support: It is important to determine the level of social support you will have when you attempt to quit. What is the smoking status of your current social network? If you have many friends and family members who smoke, think about how supportive they will be of your quit attempts. You may need guidance to help you manage your current social network or build a larger non-smoking network.

CBT and learning from relapse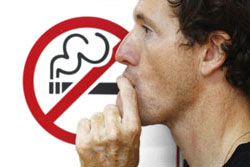 Nicotine dependence is a relapsing condition. CBT is particularly useful in helping you to learn from any relapses you have. This will help you to combat further relapses.
Learning from relapses is a cognitive exercise. You will be asked to analyse your relapse, focusing on the reasons why you relapsed. Points to consider include:
What was working when you were able to refrain from smoking? For example, what were you thinking and doing when you were not thinking about smoking?
What was it that made you lapse? For example, could it have been peer pressure or boredom, or was it stress-induced?
What have you learnt from this experience to make the next attempt more successful?

Importance of a postive outlook for quitting smoking
Imagine how your behaviours would change if you had a more positive outlook. CBT will help you to develop positive thinking patterns, which are essential if you want to successfully quit smoking.
More information
| | |
| --- | --- |
| | For more information on smoking, its health effects and how to quit smoking, as well as some useful tools, videos and animations, see Smoking. |
References