Need a Psychologist?
Nearby appointments
Below you'll find local practices with appointments available on HealthEngine.
Still Looking?
See Psychologists near Warwick, WA with more detailed information.

3/7 Prindiville Drive
Wangara, WA 6065
(08) 9409 5563

When life gets too hard, we can help you put your pieces together.
116 Westview Street
Scarborough, WA 6019
(08) 9341 7981
166 Brighton Road
Scarborough, WA 6019

Your Local Psychologist
192A Flinders Street
Yokine, WA 6060

Stressed? Anxious? Depressed?
31 Century Road
Malaga, WA 6090
0407 556 278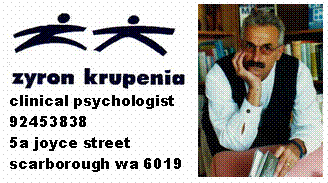 Clinical psychology
83 Scarborough Beach Road
Mount Hawthorn, WA 6016
(08) 9245 3838
6024
Warwick
WA
Psychology